The melting of the immortal 1911 and the Czech all-steel classic CZ 75, the Dan Wesson DWX was originally designed for practical shooting and was further developed later. It's available in full size and compact versions in 9mm and .40 S&W calibers. This single action pistol is based on a locked-breech Browning-Petter system with no barrel bushing. 
The double-stack magazine frame is the same as the CZ 75 as for grip angle, contour and the overall successful ergonomics. This means that retrofit grips for the CZ 75/CZ 75 Compact also fit on the Dan Wesson DWX/DWX Compact. However, the new pistol already comes with thin, easy-grip aluminum grips as standard. The fully grown DWX is fed by magazines from the CZ P-09/P-10 series, which hold 19 9x19mm rounds. The compact version of the DWX is fed by magazines from the C 75 Compact.
Dan Wesson DWX: the best from CZ 75 and 1911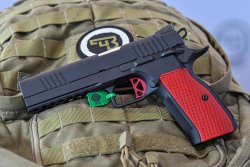 Franco Palamaro, © F.PALAMARO
The trigger is a Dan Wesson's 1911-style type, which means it's a slide trigger instead of a pivoting trigger as in the CZ 75 platforms.
The match barrel is 5"/ 127 mm long, with an overall pistol length of 8.5"/ 216 mm. Other features including a Picatinny rail on the dust cover, straight trigger blade, Commander-style ring hammer, beavertail for high grip, 1911-style thumb safety on both sides and CZ Shadow 2-style iron sights with fiber optic front sight are quite impressive. The DWX can of course be retrofitted / tuned with 1911 and CZ 75 tuning parts. 
In the USA the Dan Wesson DWX is available for 1799 USD.

---
Find all the news from SHOT Show 2020 on all4shooters.com / all4hunters.com.