This video has been hidden because of an external service (YouTube) that could potentially collect personal data.Allow video services for the duration of the visitAllow video servicesStop allowing video services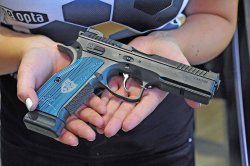 The CZ – Česká Zbrojovka company showcased two brand new sport-shooting pistols at the 2016 edition of the IWA expo in Nuremberg (Germany).
Developed in collaboration with CZ's élite IPSC shooters team, the CZ Shadow 2 semi-automatic pistol is an upgrade of the now legendary SP-01 Shadow model conceived to significantly contribute to speed and accuracy during competitions. 
Using cutting-edge production equipment, the CZ company aimed to develop a handgun that would push the boundaries of IPSC sports shooting even further. 
The CZ Shadow 2 is a 9x19mm caliber, SA/DA pistol with CZ's own modified Browning locking system design, feeding through 18-rounds or 19-rounds magazines; it is 157mm long, sports a 12-centimetres barrel, and weighs about 1,33 kilograms. The slide and frame of the CZ Shadow 2 pistol are machined out of stainless steel, while the grip panels are manufactured out of anodized aluminum.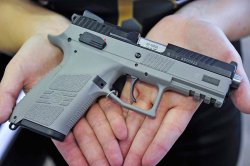 The CZ P-07 Kadet is instead a rimfire variant of CZ's current main service/defense pistol product, and was specifically conceived for target practice, leisure plinking, or training. The CZ P-07 Kadet is built around the same polymer frame used by the 9mm or .40 caliber P-07 variants, and sports a dedicated slide, 103mm-long cold-hammer forged barrel, and 10-rounds single-stack magazine. 
The slide-barrel assembly and magazine of the P-07 Kadet are also available as an aftermarket conversion kit for pre-existing P-07 variants, and is compatible with them all – including the early CZ-75 P07 "Duty" pistol.