The CZ P-07 Kadet in .22 LR caliber is the blowback version of its big sister in 9mm. Compared to the latter, it features a fixed barrel and a light alloy slide instead of a steel one, but the differences between the models actually stop there. Where the law allows it, if you already own a CZ P-07 pistol, you can just buy the conversion kit consisting of barrel, slide and magazine to switch from one caliber to the other.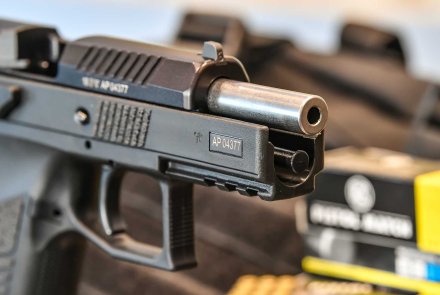 CZ P-07 Kadet: not a replica
The CZ P-07 Kadet is a compact-sized gun – but not too much: with a 4"/103 mm forged steel barrel it is 7.5"/191 mm long overall. None of the details of the 9mm version are missing: on the slide, we find front and back serrations, and a set of sights consisting of a fixed combat-type front sight and an elevation and drift-adjustable rear sight. In both the rear and front sights, the face towards the shooter is finely checkered to eliminate glare. Contrary to the established trend for service and carry guns, on the CZ P-07 we have a nice external lightened hammer with a knurled spur. Trigger is single/double action, featuring a standard blade with smooth surface.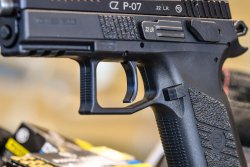 Franco Palamaro, © F.PALAMARO
The frame of the CZ P-07 Kadet is polymer and – as on the 9mm caliber version – has interchangeable backstraps to adapt to the shooter's hand. The CZ P-07 features an ambidextrous safety lever, while the magazine release button is reversible. The hold open lever is on the left side only. There are also some refinements, such as a small textured area above the trigger guard on both sides of the frame. The purpose of this area is to provide a safe and tactile support on which to place the index finger of the strong hand when you are holding the gun but are not ready to shoot. Not only that: the area on the left side of the gun supports the thumb of the weak hand when shooting with two hands, as taught by Brian Enos.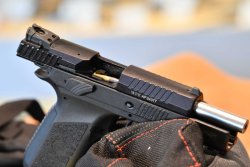 Franco Palamaro, © F.PALAMARO
These these features are exactly what makes the .22 LR Kadet particularly interesting: its manipulation replicates exactly that of the 9mm model and makes it a perfect training gun, as well as an ideal informal shooting pistol on the range. 
In addition, the light alloy slide ensures a regular cycling even with standard .22 Long Rifle loads. 
Retail price of the CZ P-07 in .22 caliber is around 690 euros

CZ P-07 Kadet pistol specs
| | |
| --- | --- |
| Manufacturer:  | Česká Zbrojovka (CZ) |
| Model: | P-07 Kadet |
| Caliber:  | .22 Long Rifle |
| Action:  | Blowback semi-automatic |
| Trigger: | Double action-single action |
| Barrel Length: | 4"/103 mm |
| Overall Length: | 7.5"/191 mm |
| Materials: | Steel barrel, light alloy slide, polymer frame |
| Sights:  | Adjustable rear and adjustable front sights |
| Magazine Capacity:  | 10 rounds |
| Weight:  | 19.75 oz/560 g |
| Price: | 690 euro (price may vary in your country) |