Ceska Zbrojovka, or CZ for short, was founded on 28 July 1936 – that is, exactly 85 years ago.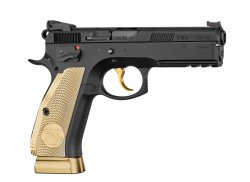 To celebrate this this important occasion, CZ is releasing two limited anniversary edition firearms: 2000 CZ 75 SP-01 Shadow 85th Anniversary pistols and 2000 CZ 557 85th Anniversary rifles will be offered. Still based in the small Moravian town of Uhersky Brod, today CZ  is the largest manufacturer of small arms in the Czech Republic and one of the most important arms companies in the world. 
It's also worth remembering that last 11 February 2021, CZ Group signed a definitive agreement to acquire 100% of Colt, as well as its Canadian subsidiary, Colt Canada Corporation. So, a real "big player" in the firearms world.
CZ 75 SP-01 Shadow 85th Anniversary Edition pistol
Based on the CZ 75, regarded by many as one of best "Wonder Nines" , the 9mm CZ 75 SP-01 Shadow was introduced in 2006 and is among the most successful pistols in the IPSC Production Division. The special anniversary edition of the CZ 75 SP-01 comes with some very distinguishing features: unique brass grips with CZ 85th anniversary logo, "LIMITED EDITION" inscription on the left side of the slide, extremely durable gold colored PVD (PhysicalVapourDeposition) finish on the trigger. Other details include an extended ambidextrous manual safety and a fully adjustable rear sight, fiber optic front sight. The gun comes with two magazines with gold-colored extended brass baseplate.
CZ 557 85th Anniversary Edition centerfire rifle

The 557 centerfire rifle series is described as CZ's flagship by the manufacturer itself. Available in .30-06 Springfield and .308 Winchester calibers, the 85th Anniversary Edition, the 85th Anniversary Edition sports gold accents on the bolt body, bolt handle knob, trigger and magazine floorplate.