The Czech company CZ supplied to peruvian FAME army plant advanced equipment, tools and instruments, and in recent months trained technical personnel, which has launched a long-term manufacturing and technological cooperation with Peru.
This is the first investment cooperation between Czech and Peruvian company in the promising field of defence and "the first case of initiating technological cooperation of Česká zbrojovka Uherský Brod for the whole region of Latin America", as emphasized by Ms Marcel Rios, Sales Manager of the CZ company for Latin America. Such cooperation in production, including further transfers of know-how and licences should be in the next 15 years gradually strengthened, while the added value generated in Peru will grow up to 40 %.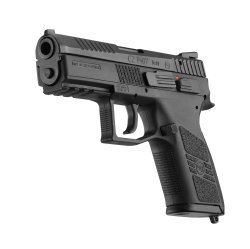 The opening ceremony was attended on behalf of the Peruvian side by CEO of FAME, Colonel Armando Rincón Moretti, further by Chief of the General Staff of Land and Air Forces, Chief Inspector of Armed Forces, Head of Armaments for the Peruvian national Police and the Director of the National Bureau of Arms Control for the Civilian Purposes (SUCAMEC). The Czech side was attended, besides business team and specialists of CZ, also by members of the Czech Embassy staff, Deputy Ambassador Ms. Kamila Hrabáková and Second Secretary Mr. Jan Vejmelka.
The CEO of FAME factory, Colonel Armando Rincón Moretti in his speech, among other things, expressed great appreciation that his enterprise will now be able to assemble, provide service and to realize sales of renowned Czech arms in the Peruvian and subsequently the regional market.
"Start of the production cooperation is an important moment in the development of bilateral relations in defence and security, which in recent years has also become the subject of more structured dialogue between our countries, whereas close communication now takes place also at the level of the Armed Forces", said earlier to this Czech investment the Ambassador of the Czech Republic in Lima Mr Pavel Bechný.