Beretta has just announced the launch in the USA of the new APX A1 Carry 9mm sub-compact pistol. A direct evolution of the APX Carry series introduced a couple of years ago, the polymer-framed, striker-fired APX A1 Carry now has a shorter and lighter trigger pull, red-dot optic ready slide, and improved modularity.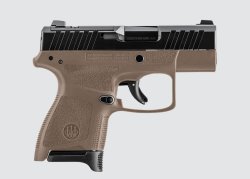 In detail, the shorter and lighter trigger than its predecessors should allow a clean break with quick reset aiding with consistent shot placement. 
The slide is red-dot ready and accepts various optics plates – one of which will be provided by Beretta free of charge through the warranty registration process online. The modular chassis allows for the attachment of optics, while the grip frame housing is available in three colors: Flat Dark Earth (FDE), OD Green, and Wolf Grey. 
Other aesthetic and functional features include the aggressive, slanted front slide serrations, a textured grip frame, and a flat trigger guard. All for a secure grip in any condition, even with wet hands.
Beretta APX A1 Carry, designed for easy concealment
Moreover, the new APX A1 Carry sports the same low bore axis of the previous models for a reduced felt recoil and a natural point of aim, also improving follow-up shot acquisition.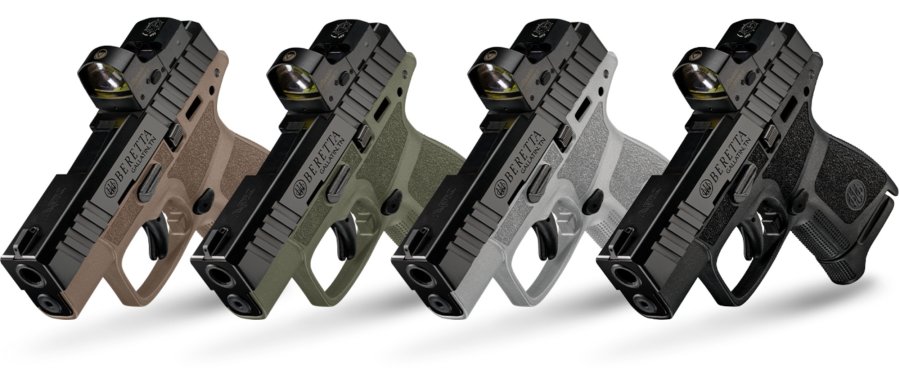 In the words of  Jeff Hobson, VP of Marketing and Sales, "We are embracing the Red Dot Optic revolution and excited to be bringing an exciting and innovative offering to the concealed carry market that further eases training and use under stress for defensive purposes." 
Being a single-stack, sub-compact handgun and with an overall length of just 5.63" , the APX A1 Carry is designed to be easily concealed and can be carried inside or outside the waistband. Magazine capacity is either 6 or 8 rounds (with extended magazine); the 6-round magazines come with both a pinky extension and a flush baseplate (included). In the US you can bring home the latest "Baby Beretta" for an MSRP of $449.