In a move clearly intended to challenge Glock and SIG Sauer (in particular) on their own ground, Beretta has just added a subcompact version to its APX series. The new APX Carry is a 9mm striker-fired, polymer framed single-stack pistol "designed specifically for military and law enforcement users who have a need for ultra concealment but want similar handling characteristics and ergonomics to their duty pistols", as explained by the manufacturer itself.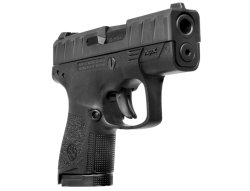 The Beretta APX Carry size support this claim: with a 3"/78 mm barrel, the "little baby" has an overall length of 5,63" /143mm and is 4.17"/106 mm high, with a width of 0.9"/23 mm. Which means that the new Beretta's gun is some tenths of an inch smaller than, say, a Glock 43 or a SIG P365. Weight (unloaded) is under 20 oz  / 562 g.
The APX Carry also features an end-user removable serialized chassis and can be easily modified with replaceable grip frame housings.
Beretta APX Carry, the challenge is on
Among the most salient features of the APX Carry, the low-bore axis, an easily manipulated slide catch, a reversible magazine release and a smooth DAO style trigger that breaks at 6.5 lb. The distinctive deep front and back slide serrations of the full-size APX pistol model are also present on this subcompact version. The replaceable sights include as standard a black rear sight coupled with a night sight front post.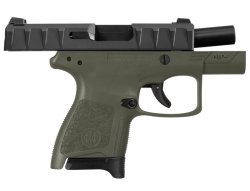 The APX Carry comes standard with a 6+1 (flush or with bottom extension) and an 8+1 (extended) magazine, and the frame can be chosen in four different colors – Black, Flat Dark Earth, Olive Drab Green and Wolf Grey. The frame can be in fact replaced without affecting the serialized chassis. Price is competitive too, at 450 USD, regardless of the frame color.
Will the APX Carry be Beretta's winning move in the competitive market of subcompact pistols? The challenge is on, in any case.