Thompson Auto-Ordnance, producer of the famous "Tommy Gun" and other historically significant weapons classics, is part of the Kahr Firearms Group, along with Magnum Research with its well-known, powerful Desert Eagle Gas Gun or BFR Revolver. With the Auto-Ordnance Custom 1911 "I Stand", the company wants to pay tribute to those who sacrificed their lives for the US on duty. That's why the engraving reads: "All Gave Some, Some Gave All" on the dust cover of the ex-US Army service gun in classic Government size.
Auto-Ordnance "I Stand" 1911, a tribute "GI pattern" pistol
Safety, sights, trigger and beavertail all replicate the GI pattern. "Unlike GI guns – however – all Auto-Ordnance 1911s are precisely machined to modern standards. This guarantees that the GI 1911 may look like the original, but will shoot with a degree of accuracy far superior to the military guns," claims the manufactures.
Barrel is 5 in / 127 mm long and the magazine is the classic 7-round single stack type. Sear, slide and disconnector are all machined from solid bar stock which is then heat treated and topped with engravings commemorating American soldiers. The phrase "I Stand" is engraved on the right side of the slide, while the left side is adorned with the saying "Freedom is not free". Grips are decorated with motifs depicting the American flag on the right grip and a battlefield memorial for a fallen soldier on the left one.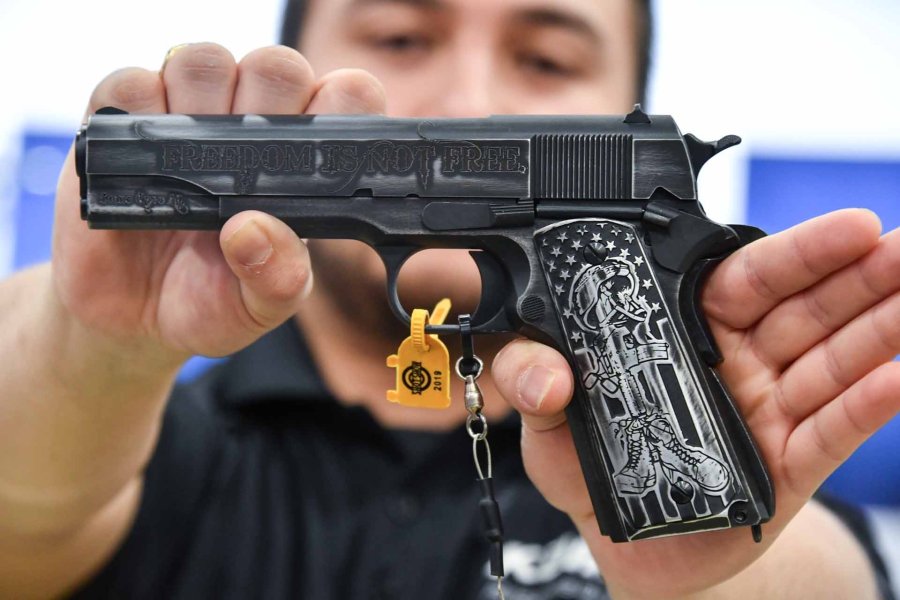 This particular 1911 is rounded off by a black-and-gray Cerakote finish, which looks as if the pistol had been worn for years ("worn" or "used" look). In the US, this 1911 is distributed exclusively by Bangers USA and costs 1313 USD.