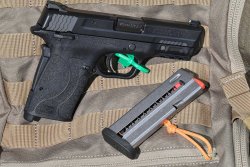 Franco Palamaro, © F.PALAMARO
At the Smith & Wesson booth at the SHOT Show 2020 in Las Vegas our eyes almost popped out of our head – we were surprised at what you can still get out of the "polymer guns" concept. For about half an hour we held the M&P 9 Shield EZ, the new compact pistol from Smith & Wesson, in our hands, checking its construction, testing the grip and handling it. Somehow the feeling of "everything is quite easy" arises – and this was probably the developers' goal. Smith & Wesson has sold more than 3 million guns of the Shield model series since 2012! These guns are available in 9mm, .40 and .45 calibers, and since 2018 also in a .380 version.
The new "M&P9 Shield EZ" model, which we are talking about, is a 9mm version – as the model name already says – and will be available in two versions in the USA at first:

A standard-model for 479 USD

A Crimsom Trace model for 575 USD (with a Crimson Trace red laser).
Sure, the workmanship is on the usual polymer-framed guns level, but the pistol comes with a very crisp trigger and can actually be cocked as easily as announced. So it's ideal for everyone who is on a war footing with strong recoil springs.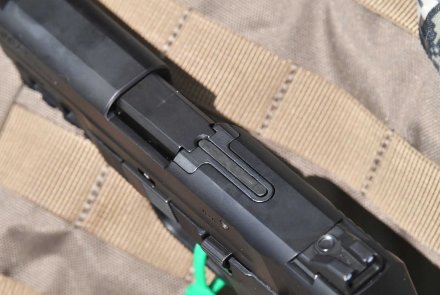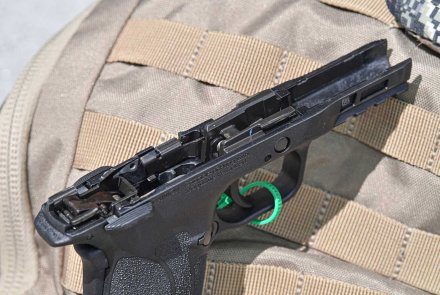 Smith & Wesson M&P 9 Shield EZ features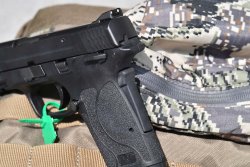 Franco Palamaro, © F.PALAMARO
When re-assembling the M&P 9 Shield EZ, the author realized only at the third attempt that the grip safety should not be pressed – a personal issue, not a design flaw.

Thus, a corresponding element in the grip prevented the sled from being pushed open completely. If the hand stayed away from the grip safety, the Smith & Wesson slide went as "easy" on the grip as the proverbial knife slides through warm butter. 

The 18-degree angle of the slim, but confortable grip looks S&W-style steep when viewed from the side, but only until you actually grab the gun - pointability is good, you can reach the target without much following, so you don't have to raise or lower the muzzle to get it right.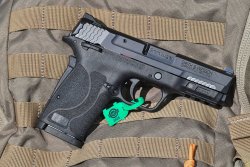 Franco Palamaro, © F.PALAMARO
The comparison to the older S&W series M&P 380 Shield EZ showed that the new 9mm version is almost one centimeter longer. Its front sight is not fixed, but drift-adjustable (thanks to the dovetail groove): according to manufacturer's information, all Shield front sights fit here. The magazine button can be swapped thanks to the external screw. The rear sight can also be adjusted – pull the slide backwards, then you can reach the corresponding screw from below.
Our first impression
If the Smith & Wesson M&P 9 Shield EZ just shoots as can be expected from such a compact gun, then S&W really did everything right. You'll find the test fire here on all4shooters.com as soon as available, of course. Stay tuned!   
Video: Smith & Wesson M&P 9 Shield EZ M2.0 
This video has been hidden because of an external service (YouTube) that could potentially collect personal data.Allow video services for the duration of the visitAllow video servicesStop allowing video services