Pulsar introduces at this year's Shot Show a completely new product for sports, hunting and professional use: the Pulsar Accolade, a set of thermal imaging binoculars. The Accolade uses cutting edge sensor and image processing technology, with built-in video recorder, stadiametric rangefinder, Wi-Fi communication module and long-life quick-change rechargeable batteries.
Features of the new thermal imaging binoculars Accolade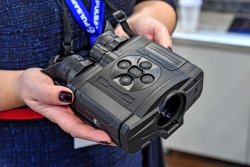 Two models have been showcased in Pulsar's booth, the Accolade XQ38 and Accolade XP50, based respectively on a state of the art 384x288 and 640x480 resolution Microbolometer sensor, both with 17 μm pixel pitch, and a 38mm and 50mm focal length, fast 1:1,2 Germanium front objective lens.
Native optical magnification is respectively 3,1x and 2,5x for the XQ38 and XP50; thanks to digital zoom, the maximum magnification is 12,4x for the XQ38 and 20x for the XP50 models, due to the different 4x and 8x magnification ratios of each model.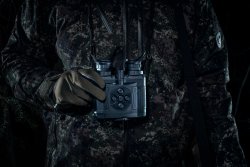 Ergonomy of the Pulsar Accolade thermal binoculars is excellent, all controls are neatly placed on the top of the device, easily operable with the fingers of both hands; the battery used is the same B-Pack of the Trail and Helion thermal optics, ensuring 7 hours of continuous operation.
As with all latest high-end Pulsar optoelectronic devices, the Accolade has been designed taking full advantage of the highly modular unified Pulsar hardware and electronics platform.
Both versions of the Pulsar Accolade thermal binoculars are able to produce a highly detailed image in complete darkness with their 50 frames per second framerate.

Both eyepieces feature a 640x480 OLED Microdisplay, with 16mm of eye relief (compatible with prescription glasses) and 5mm exit pupil; the minimum focusing distance is 3m.
Pricing and availability information for each model in Europe and USA will be announced soon.

This video has been hidden because of an external service (YouTube) that could potentially collect personal data.Allow video services for the duration of the visitAllow video servicesStop allowing video services