Just a few days ago, the US manufacturer Sun Optics announced its renaming to SOUSA and the addition of new higher-quality optics to the company's catalog. No sooner said than done, SOUSA presents its new R.A.I.D. reflex sights. Suitable for hunting and sport shooting and a wide variety of applications, the new R.A.I.D. optics include three different models at present, the R.A.I.D. Pistol, R.A.I.D. Red Dot and R.A.I.D. Micro,

The manufacturer claims that the R.A.I.D. Pistol is "a compact powerhouse". A 24 millimeter lens diameter with a 3 MOA dot and 5000 hours of battery life at average settings seem to confirm that. 10 lighting levels are available, including 2 night vision modes. Featuring a low profile rail grabber, a sharply outlined illuminated dot and a reinforced housing geometry with simultaneous weight reduction,  the R.A.I.D. Pistol also has a special coating that ensures that infrared light is not blocked, which means that it can also be used with night vision technology.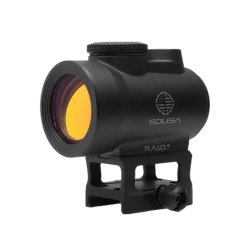 The other two models – R.A.I.D. Red Dot and R.A.I.D. Micro – are designed for sporting and hunting rifles and come with a 2 MOA dot, 11 lighting levels and 2 night vision modes, and a battery life of 40,000 hours. Both R.A.I.D. Red Dot and R.A.I.D. Micro are compatible with various assemblies from other manufacturers, such as Trijicon. 
A conically tapered design allows for a larger field of view and a narrow overall profile. while a sturdy aluminum housing ensures stability while saving weight at the same time. Three mounts are included in the scope of delivery (low, medium and high). SOUSA guarantees compatibility with a variety of after-market mounts, anyway.
Prices are $179.99 for the R.A.I.D Pistol, $219.99 for the Red Dot, and $199.99 for the Micro.
---