Specially developed for Blaser rifles, the new RD20 red point sight offers minimal target coverage by the housing. The large 36 mm inner diameter and the coverage of only 0.13"/3.5 mm by the housing wall make the RD20 the perfect red point sight for fast moving shots. The red dot has a diameter of 2 MOA, corresponding to an apparent target coverage of 58 mm at 100 meters, a perfect compromise between accuracy and ease of aiming. The red dot adjustment is 0.78"/2 cm per click on the target at 100 meters. The red dot illumination setting can be continuously adjusted on thirty levels.
Blaser RD20: refined and integrated aesthetics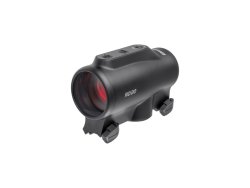 The original Blaser saddle mount is perfectly integrated into the aluminum housing. This results in a sleek, compact appearance and low overall weight, which is always a good thing on the hunting ground. The Blaser RD20 stops the scale needle at a value of 6.87 oz/195 grams. The aluminum housing is waterproof, so that the Blaser RD20 can withstand immersion in water to a depth of four meters without damage.
The lenses with  scratch-resistant coating are easy to clean from water drops, snow and debris. Thanks to the Intelligent Illumination Control (IIC) function, the RD20 automatically switches to energy saving mode when not in use. Thanks to this smart concept, the RD20 offers a service life of up to 50,000 hours.