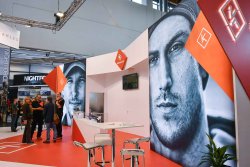 The Austrian riflescope pioneer company KAHLES presented a real novelty at the IWA OutdoorClassics 2018 with the riflescope K525i 5-25x56i. Furthermore, the manufacturer revealed its new face there, since the company has revised its brand identity and now comes with a modern new orange logo.
The KAHLES K525i is not only the big brother of the ultrashort K318i, but also the new flagship of KAHLES in the field of tactical riflescopes. It combines maximum optical performance and highest precision with easy handling and ergonomics – a perfect overall package for the highest demands.
By the way, just one day before the IWA, the scope was presented exclusively to a selected audience on the RWS HUB hunting blogger event 2018.
KAHLES K525i 5-25x56i tactical riflescope: features 
The KAHLES K525i 5-25x56i is intended to help ambitious shooters to achieve their best in long-range shooting. It has been created as a high-precision riflescope for tactical use and long distances. In addition, the rugged K525i offers a practical magnification range. At the shooting range, the clearly defined clicks together with the exceptional repeat accuracy provide highest precision and reliability.
Due to the unique arrangement, all operating elements can easily be operated with the intuitively preferred hand, without having to reach over the scope or having to move out of the shooting position. The central arrangement on the top of the tactical riflescope makes right- and left-handed operation equally comfortable. Moreover, the essential information on the turrets is clearly readable from the firing position.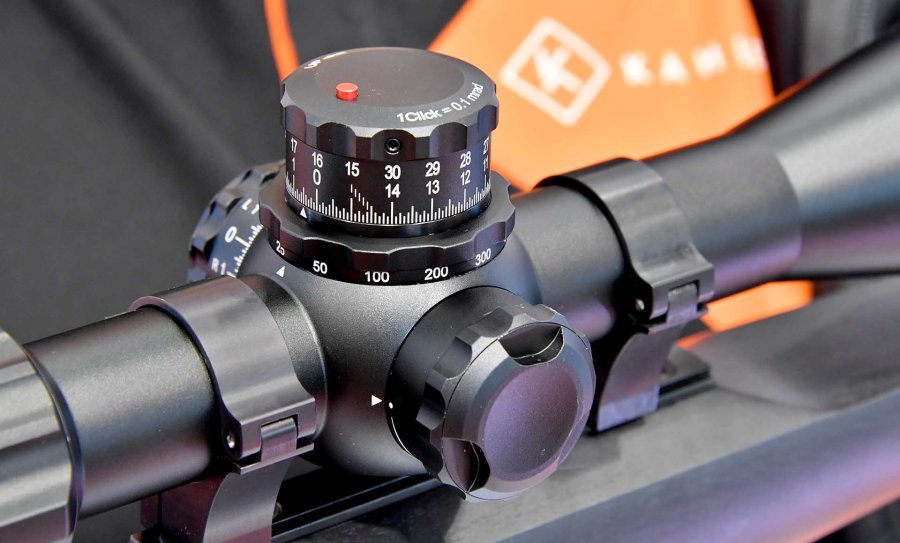 Also noteworthy is the innovative, patented TWIST GUARD anti-twist safeguard: a freely rotating end cover reliably prevents unintentional movement of the windage. At the same time it allows the shooter a fast and unhindered handling of the windage without the hassle of "locking" and "unlocking".
The large adjustment range of the tactical riflescope provides enough reserve for each situation. In addition the KAHLES K525i 5-25x56i is available with 5 precise illuminated reticles in the first focal plane: SKMR3, SKMR and MOAK as well as the two further developments with the MSR2/Ki and the Mil4+.
KAHLES K525i riflescope: technical data
| | |
| --- | --- |
| Model: | K525i 5-25x56i |
| Manufacturer: | KAHLES |
| Type: | tactical riflescope |
| Objective lens diameter: | 56 mm |
| Tube diameter: | 34 mm |
| Exit pupil diameter: | 9.5 – 2.3 mm |
| Eye relief: | 95 mm |
| Field of view: | 7.1 – 1.5 m/100 m; 21.7 – 4.4 ft/100 yds |
| Diopter compensation: | -3,5 to 2,0 dpt |
| Parallax adjustment: | 20m - ∞; 22yds - ∞ |
| Reticle 1. Focal plane: | SKMR3, SKMR, MSR3, MOAK, Mil4+ |
| Length: | 377 mm; 14.8 inch |
| Weight: | 970 g |
| Price: | 3,300 euro |
The tactical riflescope KAHLES K525i 5-25x56i will be available from August 2018 at specialised retailers. The recommended retail price is 3,300 Euro.
Key features of the KAHLES K525i 5-25x56i riflescope at a glance:
Maximum optical performance (picture quality, contrast, field of view)
Repeat accuracy
Clearly defined click mechanism (0,1 MIL, MRAD or ¼ MOA)
Parallax wheel integrated in the elevation turret
Innovative TWIST GUARD windage
Illuminated reticles in first focal plane
Large adjustment range with 2.9 m (E) and 1.3m (W) at 100m