The Austrian optics company KAHLES is considered one of the oldest manufacturers of riflescopes in the world. At IWA 2018, KAHLES presented itself with a gaudy orange brand look. The change towards this sporty and dynamic design should also appeal to a younger and more active target group in the field of hunting and sports.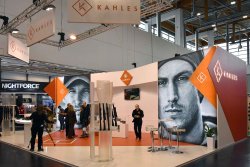 In recent years, KAHLES has successfully expanded its activities into sports competitions. The company has earned an excellent reputation in the international shooting community in various disciplines such as PRS, 3Gun, IPSC or Field Target.
KAHLES has a long tradition in the field of hunting and has gradually paid more and more attention to younger target groups. In an effort to constantly evolve, the manufacturer supports ambitious shooters and hunters with intuitively simple, well thought-out products.

KAHLES K318i 3.5-18x50i riflescope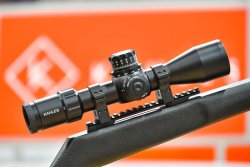 At SHOT Show 2018 KAHLES introduced the new and extremely short riflescope for long range shooting and generally long distances: the K318i 3.5-18x50i.
In a housing that's just 313 mm long, high-quality technology is installed, offering the shooter a large field of view and a high-contrast and brilliant image. KAHLES actually created a technical masterpiece with the new ultrashort K318i.
KAHLES K525i 5-25x56i riflescope

The "big brother" of the K318i was shown to the public for the first time at the IWA in 2018. With the new flagship from KAHLES in the field of tactical riflescopes KAHLES shows a truly high-quality overall package.
The K525i with 5x zoom range is specially designed for long shots. It should help demanding shooters to perform well. The repeatability of the rifle scope allows for high reliability and precision. The K525i with 5 different reticles in the 1. Focal plane will be available in August 2018.

KAHLES Helia 8x56 binoculars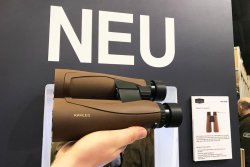 At the "Hohe Jagd & Fischerei" trade fair in Salzburg, KAHLES introduced the new binoculars from the Helia range: the KAHLES Helia 8x56. With these large binoculars, the company rounds off the Helia family.
The KAHLES Helia binoculars are especially suitable for observation at dusk and night. A large field of view and a bright optic with a high twilight factor guarantee hunters a reliable image quality even at night.
More information about KAHLES products can be found directly on the website of the optics manufacturer.