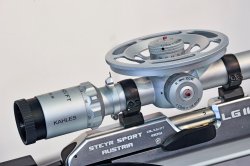 The Kahles K1050i FT is not a new optic, having been introduced a couple years ago with the Bench Rest and Long Range versions. What was new for the 2016 edition of the IWA & Outdoor Classics in Nuremberg, Germany, was the new Silver color scheme and matte surface treatment.
The Kahles K1050i FT is a 10-50x56mm variable magnification competition riflescope that  features a centerline parallax control ring  that is coaxial with the elevation turret that allows the shooter to operate all the scope controls - windage, elevation and parallax - with only his right hand, never losing the sight picture or hold on the rifle. Once adjustments are made to the windage on the side turret and elevation has been dialed in, the shooter can fine tune the focus using the extra-large parallax adjustment ring; the exceptional minimum focus distance of 8 meters with a range up to 60 meters is ideal for field target competition.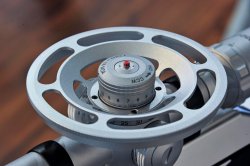 The illuminated, second focal plane placed, glass etched MHR reticle is extremely accurate. Turrets feature 1/8-MOA clicks, with an elevation adjustment range of  55 MOA (160 centimeters at 100 meters) over three revolutions of the turret. A colored pin protruding from the top of the turret indicates each revolution. The K1050i riflescope weights 1040g and is 429 mm overall; eye relief is 95 mm, the large eyepiece allows for +2/-3.5 diopter adjustment, and the field of view is 2.9 - 0.6 m at 100m, depending on the magnification.