In view of the booming market sector of the "Mini Red Dot Sights" (MRDS), many customers approached the manufacturer asking whether Aimpoint could offer such a product. The list of MRDS providers is currently getting longer and longer and includes the following manufacturers: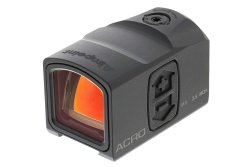 C-More, GECO Optics, Leica, Leupold, Meopta, Noblex (Docter Sight), Shield, Trijicon or Vortex. Actually, Aimpoint has exactly such an MRDS in its catalog for some time, but due to agreements with B&T AG, the device called "Nano" is reportedly for the time being only sold in combination with the USW (Universal Service Weapon) weapon system offered by the Swiss manufacturer. 
Unlike the tube- or housing-less MRDSs with front lens frame that are dominating the market, the new Aimpoint ACRO features a housing and looks to be relatively generous in size compared to other makes.

Aimpoint ACRO, an enclosed MRDS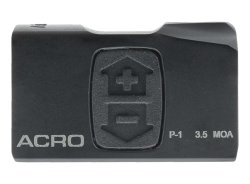 The Scandinavian manufacturer states that, by design, the new ACRO P-1 with enclosed housing is supposed to be much more robust in continuous use than MRDSs with an open design and front lens.
In addition to military endurance tests for shock, vibration, temperature and other environmental stress, the Aimpoint ACRO P-1 mounted on the slide of a .40 S&W service pistol proved to survive more than 20,000 rounds. 
The parallax-free, fully submersible to 25 meters MRDS from Sweden works with a CR1225 battery for over a year and features a 3.5 MOA red dot, whose intensity can be regulated by means of side push buttons. Of course, it can be mounted not only on pistol slides, but also as a secondary optic alongside riflescopes on long weapons.