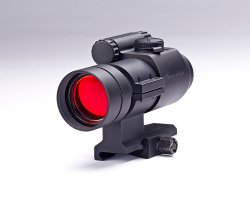 InterMedia Outdoor Holdings, Inc. - Guns & Ammo magazine
Modern sporting rifles − those semi-automatic centerfire rifles and carbines cosmetically and (partially) technically based upon the layout of modern military issue rifles, often derogatively addressed to by the anti-gun lobby as "assault weapons" − are almost supposed to be used with an optical or electro-optical gunsight right out of the box, even though they're almost always still issued from factory with fixed or folding iron sights.
That has nothing to do with emulating what we see on TV being done by troops on the frontline, although the reason why a civilian shooter may want to equip his or her modern sporting rifle with an optical gunsight right away may actually be the same that leads professionals to do that in the field.
Red dot or reflex collimator gunsights allow quicker and easier target acquisition and instinctive alignment if compared with standard iron sights; furthermore, as short as it may be for their category, the sighting plan for rifles and carbines is still often long enough to cause problems for shooters with even the slightest sight defect. Last, but not least, an illuminated red dot sight allows target acquisition even in these inclement environmental lighting or weather conditions − including anything from fog to sandstorms − that may make the use of iron sights extremely difficult, if not outright impossible, unless they come with high-visibility inserts.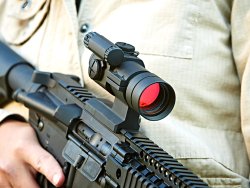 InterMedia Outdoor Holdings, Inc. - Guns & Ammo magazine
Swedish-based Aimpoint AB is probably the world's most important manufacturer of high-intensity applications red dot gunsights: the COMP-M red dot sights manufactured by Aimpoint, and all variants thereof (M3, M4, ACIES, and so on) are used by the U.S. Military ans well as by countless military forces, Police organizations, private military companies and other professional users all around the world.

This of course means that Aimpoint came on to develop a significant experience in this field as the years went by, and to recognize the difference between the needs of military operators and those of sports shooters and law enforcement professionals alike − who often use the same semi-automatic rifles and carbines available to civilian shooters rather than full-automatic or select-fire weapons, particularly in north America.
Aimpoint's last-introduced product for the year 2014 was thus meant to provide modern sporting rifles and Police patrol guns with a red dot sight that would offer the same quality of the Company's military-issue products with a strictly "civilian-grade" user-friendliness, and at a lower price.
The Aimpoint ACO ("Aimpoint Combat Optic") red dot sight is 13 centimetres (5.1") long, 55 millimetres (2.2") high, and is built around a 30 mm (1.18") graphite grey hard-anodized, machined reinforced aluminium body sporting a 38 mm (1.5") objective.
Merely 220 grams (1.8 oz) heavy, the Aimpoint ACO sight comes equipped with an extremely rugged fixed height mount designed to interface on any MIL-STD-1913 "Picatinny" rail and to provide absolute co-witness with AR-15 backup iron sights, so that in case of failure of the optics itself the shooter may still be able to use them through it.
The Aimpoint ACO red dot gunsight is powered through a simple 3-Volt 2L76 or DL1/3N removable battery hosted in an airtight and waterproof raised compartment on its right side; two protected dials − one on top of the tube, the other on the right side, under the battery compartment − allow the 2 MOA, 65 nm red light dot to be adjusted for windage and elevation with 13 mm/100 m (½"/100 yds) clicks.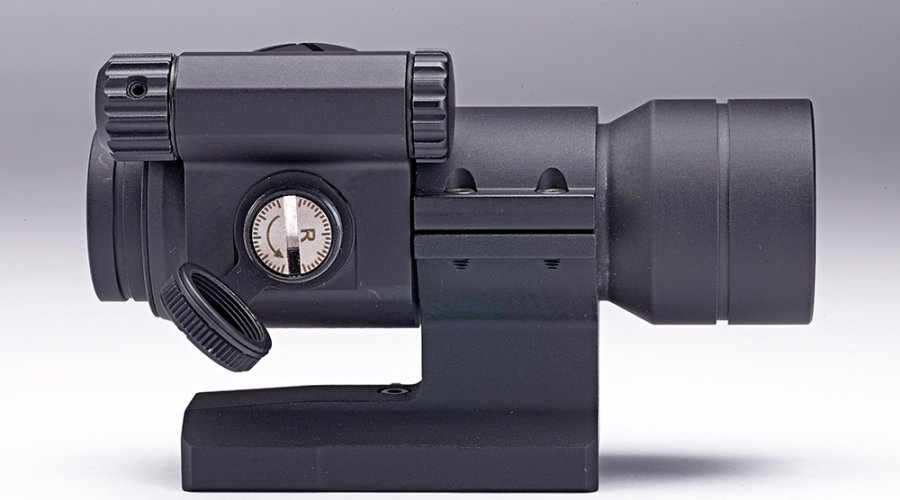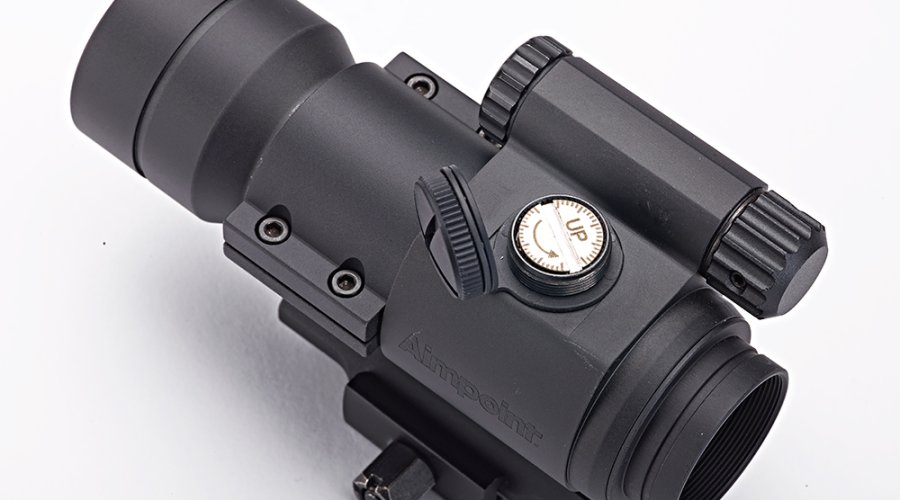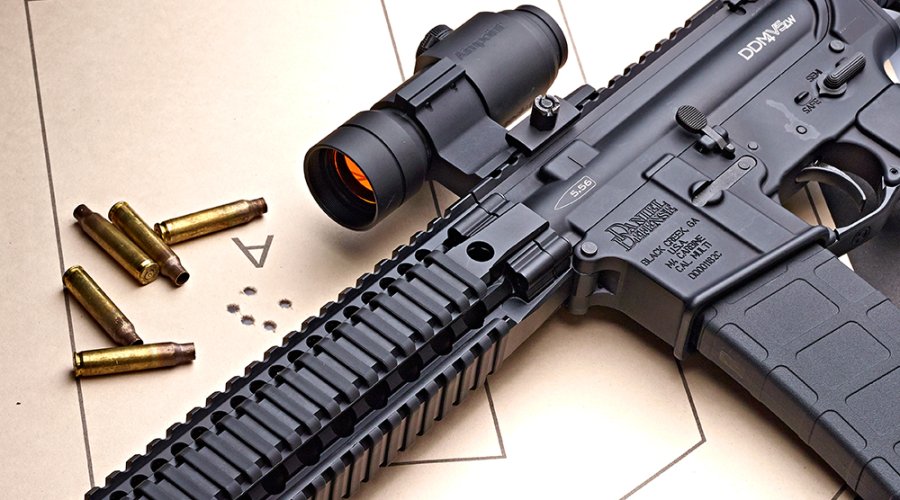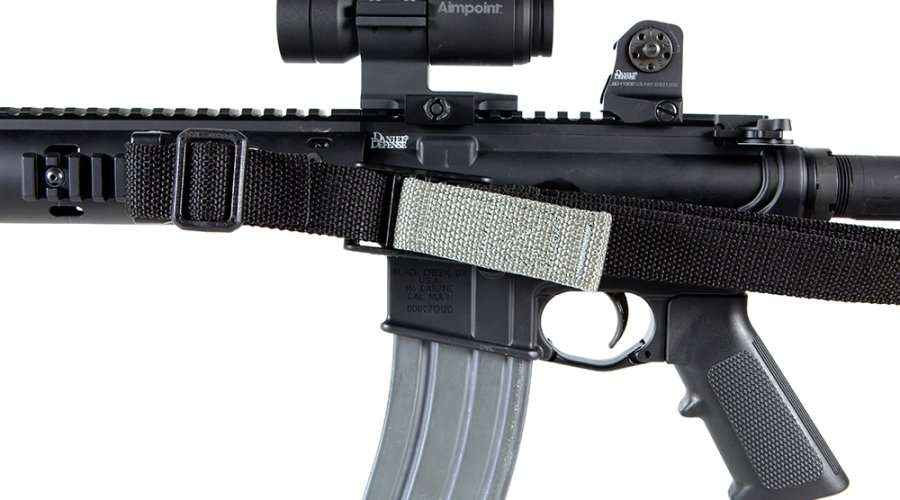 The battery compartment also sports a rear dial that works as an on/off switch for the Aimpoint ACO, and allows the shooter to set the red dot for nine different available levels of illumination.
Aimpoint's own "Advanced Circuit Efficiency Technology" (ACET) optimizes battery consumption, providing a continuous service life of 10000 hours (over 1 year of continuous use) when the red dot is set at the optimal illumination level (that's 7 out of 10 at room temperature).
The Aimpoint ACO gunsight offers no IR-friendly mode, and no magnification (it's a pure 1x gunsight we have here!), but on the other hand it comes parallax-free, requires no centering, and sports an unlimited eye relief.
The Aimpoint ACO carbine optical sight remains usable at a temperature range of -29°/+60°C (20°/+140°F), features no radio-active components, and sports an anti-reflex coating on all surfaces, plus a multi-layer coating on the objective lens; it is also totally waterproof and impervious to many other hazardous elements.

The Aimpoint Carbine Optic is already available in the United States at a manufacturer's suggested retail price of $393,00; that would be 325,16€ at the current change, but a retail price for export markets hasn't been officially set yet.
A true "high-class entry-level" gunsight, the Aimpoint ACO definitely sports one of the best price-to-quality ratios in its category; we at all4shooters.com are eagerly looking forward to see it in person at the 2015 SHOT Show, in a couple of weeks.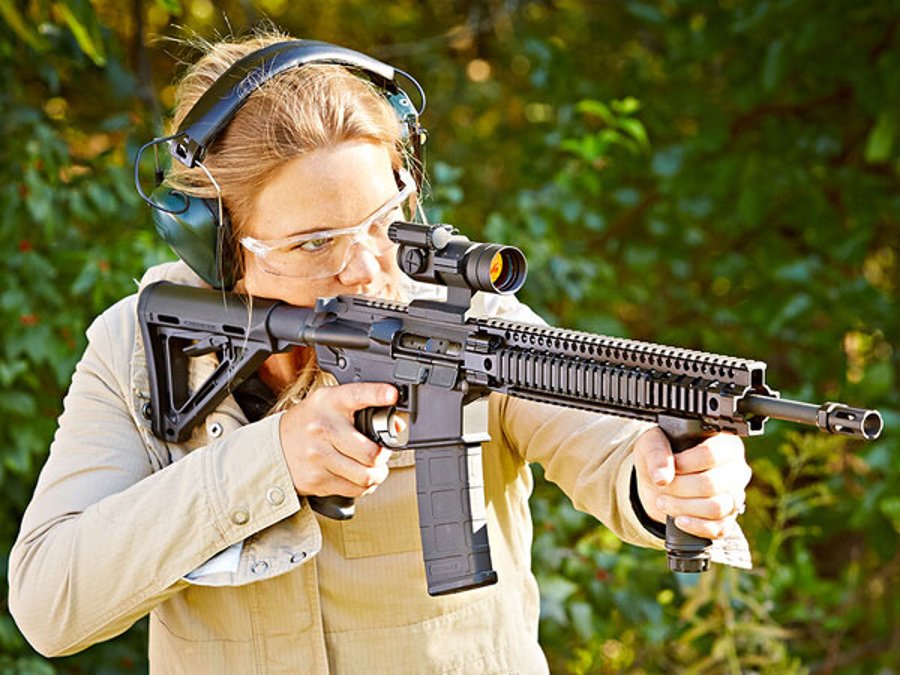 InterMedia Outdoor Holdings, Inc. - Guns & Ammo magazine