Friction folding knives, i.e. without a blade locking system, whether pump or liner lock, had almost disappeared from the market, but due to the restrictive laws in some countries such as England – where knives with a blade locking system and/or that can be opened with one hand are banned, are now coming back in favor. Actually, knives with a friction system (slip joint) are not dangerous per se, since traditional friction knives like the Sardinian resolza have always been used even for heavy work. The matter is always the same and also applies to firearms: if you know how to handle them and you are careful, chances that something go wrong are quite slim. In any case, the new Maserin knives have no lock and to be opened they require the use of both hands and this makes them marketable even in the countries with the most restrictive laws

New Maserin Scout folding knife for everyday carry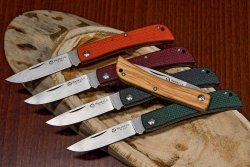 But let's go back to Maserin knives starting with the Scout model inspired by the lines of the classic "Marinera" of Maniago. It is a light folding knife with a D2 steel utility blade featuring a "stone washed" finish, 3.14" / 80 mm long and a 0.086" / 2.2 mm thick. To ease blade opening, the classic nail-grip that for years was the only aid –  before being replaced with pegs or grip holes – is back. The handle can be in red, gray, blue, green and pink micarta, or olive wood. The Scout knife is intended for daily use and is really lightweight, tipping the scales at 2.82 oz / 80 grams. 
Retail price is around 50 euro.

Maserin Trapper: a new light knife

The new Maserin Trapper model could be defined as an updated version of the classic Maniago locking knife with a "Long Clip"-profile D2 steel blade with a satin finish. The blade length is 3.34" / 85 mm with a thickness of 0.086" /2.2 mm. The handle, with clean and essential lines, consists of a pair of brown, gray, black and green micarta grips, fixed to the steel plates with Allen screws. On the back of the handle there is a through hole that allows to secure a strap or a safety chain to the knife. The Trapper is really a featherweight: only 2.25 oz / 64 grams that allow for easy carrying.