Among the various innovations that Coltellerie Maserin of Maniago, Italy, introduced at the Las Vegas fair we have chosen the Artiglio model, a medium-sized folding knife, featuring a 3.9 in / 100 mm-long and 0.012 in / 3.2 mm thick D2 steel blade with "stonewashed" finish. The D2 is called a semi-stainless steel that thanks to a chrome content of 12% offers a good resistance to corrosion and a superior edge retention. 
Features of the Maserin Artiglio knife
The overall length of the Maserin Artiglio is 8.66 in / 220 mm; weight is 5.43 oz / 154 grams. The closure is of the liner-lock variety. The G10 handle is available in different colors: black, green, dark gray and light gray. A removable stainless steel clip is mounted on the handle.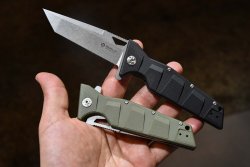 Franco Palamaro, © F.PALAMARO
The Maserin Artiglio was designed by Giacomo Toncelli, a young Tuscan designer who is no stranger to collaborations with the Maniago company. The design of Myrmillo, the military knife recently launched on the market by Maserin, is his. We asked him how he conceived this new locking blade knife: "We have tried to summarize function and aesthetic concepts to the maximum, mixing them in the final result, the Artiglio. Satisfying functional and aesthetic needs required various studies, prototypes, experiments and modifications, all to get the most out of this as small as particular tool. Both the handle and the blade are the result of specific ergonomic studies, coming also from the previous project of the Myrmillo bayonet (again by Maserin), with which it is possible to find a certain formal resemblance. A folding knife must be able to lend itself to the most varied uses and this involves a change of grip on the handle according to the situation. This principle guided all the development of Artiglio, without renouncing the aesthetic component, which we believe to be of equal importance with the functional one. Therefore, also in this respect our knife tries to carve out its own niche in what is already a very varied market."
The price tag of the Artiglio knife is 188 Euro.
| | |
| --- | --- |
| Model: | Artiglio |
| Designer: | Giacomo Toncelli |
| Type: | folding  |
| Lock: | liner lock |
| Blade: | D2 steel blade 3.9 in / 100 mm-long |
| Handle: | G10 |
| Overall length: | 8.66 in / 220 mm |
| Weight: | 5.43 oz / 154 g |
| Price: | 188 euro |
---
To learn more about the products of Coltellerie Maserin please visit the company's website.