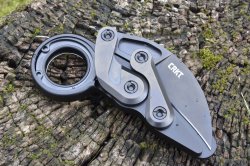 The karambit is a knife that originates in Southeast Asia and is characterized by a short curved blade and a ring in which to insert the little finger of the strong hand, basically to avoid losing it in the tall grass or in the dark waters of rice fields.
Recently, the karambit has been rediscovered by some martial arts masters who have enhanced its cutting speed and effectiveness, thanks to the possibility of making it twirl around the fingers. Youtube is full of examples of karambit manipulation; how effective they are in the real world, is difficult to determine.
On the wave of this renewed interest, several manufacturers tried their hand with their versions of the fixed-blade (as in the original version) or folding-blade karambit. CRKT, that already offered the fixed-blade Du Hoc model in its catalog, went even further, presenting the Provoke, a karambit featuring a folding blade and a forward opening system.

The Provoke was designed by Joe Caswell , an interesting guy who alternates his work as a knifemaker with that of a motorcycle journalist and who developed the " Kinematic " mechanism of this knife obviously basing on his own motor knowledge.
Featues of the karambit CRKT Provoke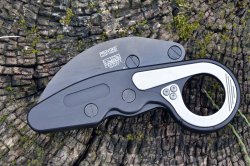 Basically, the knife consists of a handle that is vaguely shaped like an inverted "P". The blade is connected to the handle by two crossbars that, when closed, keep it close to the handle. The latter is designed so to prevent the user's fingers from touching the blade edge. Pushing the upper crossbar causes the blade to move forwards (or backwards). The blade is then locked open by an automatic catch located near the ring.
On the back of the ring there is an ingenious stainless steel clip that when not in use is perfectly flush with the handle and can be used to attach the knife to a tactical vest. Alternatively, a belt sheath is available and must be purchased separately for 34.99 USD.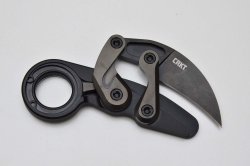 In the meantime, the 2.4"/ 61 mm long claw blade in D2 steel with titanium nitride finish goes almost unnoticed, but there it is – and it cuts a lot, too. In our case the edge was smooth, but it's also available in a serrated version.
While not hitting the heights of genius of Alberto Gariboldi's Lockin' knife , the CRKT Provoke is certainly an interesting and well built object, a sign that in the world of tactical and sporting knives there is still something to say. We'll leave to martial arts experts any considerations on its effectiveness, which remains theoretical for us.

Retail price of the Provoke is 200 USD – a price probably motivated by the complex design (for a knife) and materials used, yet it seems quite high to us.

This video has been hidden because of an external service (YouTube) that could potentially collect personal data.Allow video services for the duration of the visitAllow video servicesStop allowing video services
| | |
| --- | --- |
| Manufacturer: | Columbia River Knives & Tools |
| Model:  | Provoke |
| Design: | Joe Caswell |
| Type:  | karambit |
| Opening system:  | folding knife w/Kinematic  |
| Locking system:  | catch lever |
| Blade material: | D2 steel |
| Handle material:  | 6061 aluminum |
| Blade length:  | 2.4"/ 61 cm |
| Overall length:  | 7.25"/ 185  mm |
| Weight:  | 6.1 oz / 172 grams |
| Price: | 200 USD |