Three Ballistic's Best Awards by Athlon Outdoors: this is the flattering result that SIG Sauer takes home at NRA Show. Athlon Outdoors is a leading provider of magazines, video and digital media for serious firearms enthusiasts, outdoorsmen and survivalists with a collection of 24 titles, 48 magazines annually and 4 websites. The Ballistic's Best Awards are Athlon's recognition of superiority in class and significant product development throughout the year and were presented in nine categories for both Editor's Choice and Reader's Choice. SIG Sauer was awarded the following Ballistic's Best Awards: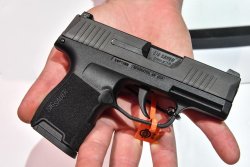 Ballistic's Best: Compact Semi-Auto, Editor's Choice, SIG Sauer P365 Micro-CompactBallistic's Best lauded SIG SAUER for making "no sacrifices" in quality or features when developing the P365 everyday carry pistol. Ballistic's Best noted that in, "2018, SIG SAUER decided to swing for the fence and ended up releasing an exciting new offering in the new P365."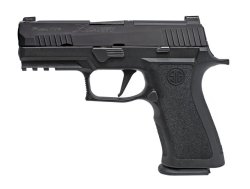 Ballistic's Best: Full-Sized Semi-Auto, Reader's Choice, SIG Sauer P320 X-CarryRecognized by readers as, "the best combination of concealment and high capacity in 9mm," and, "a finely built firearm that feels good in hand, both at rest and work." The P320 X-Carry is a modular striker-fired pistol available in varying grip sizes.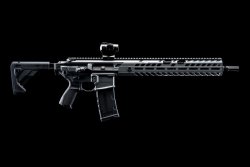 Ballistic's Semi-Automatic Rifle, Reader's Choice, SIG Sauer MCX Virtus SBRRecognized by readers for offering "the right balance of firepower, size, weight, and reliability. "The MCX Virtus was praised for its ease when changing barrel length and caliber, adjustable gas block, unique bolt changing system, and the variety of folding stock configurations. Ballistic's Best readers hailed the MCX Virtus as the "future of MSR-style rifles."
"Receiving the Ballistic's Best Awards from Athlon Outdoors for Editor's Choice and Reader's Choice in three categories is very gratifying for everyone at SIG Sauer," said Tom Taylor, Chief Marketing Officer and Executive Vice President, Commercial Sales, SIG Sauer, Inc. "We work tirelessly to introduce new products by remaining committed to our research and development, utilizing cutting edge engineering, innovative designs, and superior quality, with the sole purpose of enhancing the shooting experience. This recognition is really a testament to the hard work and dedication of everyone involved, throughout our entire process at SIG SAUER, and our drive to be the best in everything we do." 
Athlon Outdoors Ballistic's Best Awards were announced during the NRA Show in Dallas, Texas, and will be featured in the Athlon Publications Ballistic's Best Premier Issue.