The "Road to IWA 2022" starts directly with a highlight, because the "IWA Studio Edition - 3 hours full of infotainment" will take place in an extended reality studio. On March 12, 2021, from 3 to 6 p.m., there will be continuous panel discussions, product presentations and industry insights with various opportunities for interaction. Professional moderator Matt L. Beadle will lead through the program, which is intended to enhance the show character of the event. He will be assisted by a DJ for background music. This groundbreaking digital event was developed by the IWA team together with an experienced service provider and we think it will set new standards – not only within the firearms industry!
Retail 4.0 and sustainability – Important topics also for the gun industry
Cross-industry trend topics such as Retail 4.0 or sustainability will also play a role at the "IWA Studio Edition". The Association of German Gunsmiths and Gun Traders (VDB) and the WM-Intern business magazine have addressed the topic of Retail 4.0. Asked about his involvement, VDB Managing Director Ingo Meinhard explained: "The IWA Studio Edition is an extremely exciting concept. In our capacity as conceptual supporter and long-time partner, we give these activities our full backing and are proud to be part of the event."
On the topic of sustainability, there will be a panel discussion with some industry experts. Among others, Stefan Hämmerle, Marketing & Sales Director of Swarovski Optik, will take part.

Product presentations at the "IWA Studio Edition"
Some manufacturers have already announced in advance that they will contribute something to the event. In addition to product presentations, the focus will also be on best practice examples, insights and innovative approaches within the companies. As we were able to find out, UMAREX, Carl Walther and Carl Zeiss will be among them, and Savage Arms, a US manufacturer, has already announced its participation.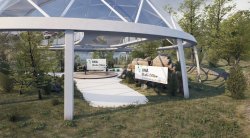 Carl Walther Managing Director Bernhard Knöbel explains: "The IWA Studio Edition is an exciting creative format that we are happy to support. It offers the perfect opportunity to present the Walther brand concept to our partners worldwide."
Potential that Savage Marketing Director Beth Shimanski also sees: "Unprecedented times like this require new and courageous measures. We think that the IWA is taking an important and good new step with the Studio Edition, which Savage is happy to be a part of this new endeavor. Savage had some big new product news this year we were hoping to share with everyone in person, but are thrilled at IWA is now allowing us the chance to engage with this audience in a new way and still showcase the products we think this market will be excited to see."
Like the regular IWA OutdoorClassics, the "IWA Studio Edition" is aimed at the international trade professionals and invited guests. The editorial teams from all4shooters.com/all4hunters.com, caliber and VISIER will be there for you to make sure you don't miss a single new product or innovation – we promise! Do you have manufacturers or topics of particular interest to you, just drop us a line at info@all4shooters.com or our social media channels.
Comment from all4shooters.com on the IWA Studio Edition 2021
We are very pleased that Nürnberg Messe is taking this innovative step for our industry with IWA. Therefore, we are happy to be on board to support its success. As always, there are two aspects to this issue: firstly, the trade audience and dealers for whom this Studio Edition 2021 is intended. But especially our commitment – also in the past years – was always to let our fans (hunters and sport shooters) participate and to introduce all important novelties in text, pictures and videos. And this much can be revealed: you can look forward to "fireworks" especially on social media, which we will announce in time with all the details. Maybe this is a good reason to sign up for Instagram and subscribe to our channels? Stay tuned...
---
For more info on the "Road to IWA 2022" event series and the "IWA Studio Edition" please visit the IWA OutdoorClassics website.