Holt's Auctioneers is a British auction house specializing in fine guns. On March 23rd a promising sale of collectible guns will take place in Norfolk. As always, the majority of the auctioned pieces are British-made smoothbore and Express firearms, but if you browse the auction's extensive online catalog, you can also find more eccentric pieces. Below is a small overview of some interesting pieces with some information.
The world's smallest semi-automatic pistols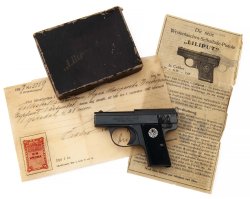 Let's start with Lot 889, a gun that takes us back to the days of the so-called "vest pistols" that were carried in the waistcoat pocket, probably more for showing off than to solve real safety problems.
It's a rare 4.25mm caliber Liliput semi-automatic pistol manufactured in Austria in 1925 by August Menz, with serial number 1522. The 4.25mm cartridge pushed the small 1 g bullet to the nice muzzle velocity of 250 meters per second with a muzzle energy of 23 Joules. The Liliput pistol is in mint condition, with the original finish intact and hard-rubber grips with a medallion featuring the caliber within an oakleaf wreath. The gun comes complete with its original cardboard packaging, instruction leaflet and sales receipt dated 1927. The starting price is 1200-1800 pounds, equal to about 1440-2150 euro.
Let's stay on the topic of micro-guns with the lot 805, an even rarer 2.7mm Kolibri pistol. The 2.7 Kolibri caliber still holds the record for the smallest center-fire cartridge ever produced, propelled a 3-gr bullet (0.2 grams) at an exit velocity of 200 meters per second. The cartridge, 11mm long and with a diameter of 3 mm, was patented in 1910 by the Austrian watchmaker Franz Pfanni, evidently accustomed to handling tiny objects. 
The same cannot be said of the buyers of the microscopic pistol who found themselves struggling with a gun so small that it made it extremely difficult to fill the six-round magazine and handle it. In fact, the gun is only 2.67"/6.8 cm long. The barrel's bore is smooth, 1.25"/3.2 cm long. The semi-automatic action was blowback. The pistol is finished in white and has the serial number 15, corresponding to an estimated manufacturing date around 1915.
1873 Model "King's improvement" Winchester Lever Rifle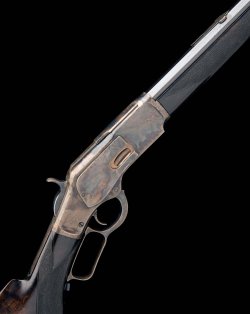 Far West fans will surely be intrigued by lot 1112, a 1873 model "King's improvement" Winchester lever rifle in .32-20 Winchester caliber.
The octagonal barrel is 24.25" and has been re-blued. The front sight is dovetail mounted with nickel plated blade, the rear sight is unfortunately missing (originally of buckhorn style). 
This Winchester rifle has vintage London proofs, color case hardened receiver with stepped bridge at breech, sliding dust-cover. The walnut buttstock features a fine checkering, a blued steel heel plate. The finger lever has the same finish as the receiver. The full-length tubular magazine under the barrel is blued, possibly expertly renewed.
 The rifle is accompanied by a Winchester Heritage letter stating that it left the factory on 14 March 1883. Given the excellent state of preservation, the starting price ranges from 3 to 5 thousand pounds, about 3600-6000 euro.

Pieper rollling-block "Volley Rifle"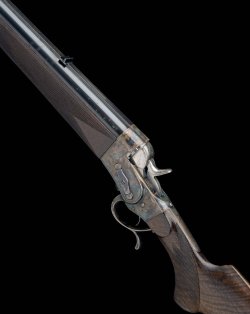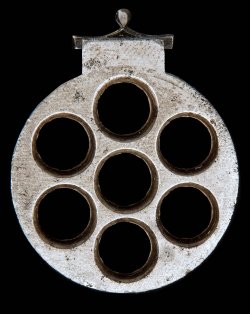 Let's continue with lot number 750, consisting of a seven-barrel, rolling-block rifle with serial number 256 built by the gunsmith Pieper of Liège in the second half of the 19th century. It's a so-called "volley" or multiple barrel rifle that fired all the barrels simultaneously. Chambered in a 7mm caliber, this gun features the rolling block breech patented by Pieper and seven 25.6"/65 cm barrels. On the barrel there is a raised rib ending with a dovetail-mounted front sight. The notch rear sight is also dovetail mounted. The stock is walnut, with finely checkered areas and pistol grip. The buttplate is blued iron.
The weight of the gun is about 9.9 lb / 4.5 kilograms, all in all reasonable if you think that it has seven barrels. The rifle is in excellent condition, with mint color case hardened metal parts, while the barrel has been re-blued. The estimated starting price ranges from 5 to 7 thousand pounds, about 6000-8500 euro at current exchange rates.
A glorious J. Purdey & Sons Express rifle in .577 caliber

Lot 745 is a superb J. Purdey & Sons black powder Express double-barreled rifle, in .577 caliber (2 3/4 in). The barrels measure 28 inches (71 cm) and are marked "J. PURDEY & SONS. AUDLEY HOUSE. SOUTH AUDLEY STREET. LONDON." The Express bears the serial number 12343 and features a rotary underlever system with external dolphin-shaped hammers.  On the barrels are two folding leaf sights marked at 100 and 150 yards. Locks and receiver with flowers and acanthus scroll engraving with slight traces of the original color case hardening. Walnut wood stock with pistol grip and fine checkering on the grip areas. Partially checkered iron buttplate engraved with the words "CHARGE 6DRMS NO.6 POWDER". The manufacturer's records show that the gun was made for Lieutenant W.J. Nickalls, 17th Lancers, and left the factory on December 31, 1886. This gun was part of the collection of the Portuguese hunter Manuel Lopo de Carvalho (1918 -1994) who in 1955 made a legendary hunting expedition to Angola, which laid the foundations for the creation of the country's first reserve. In 1993 he created a hunting museum in his castle in Vila Viçosa, Portugal, which can still be visited today.
The starting price for this interesting example of British colonial firearm is 5-7 thousand pounds, about 6000-8500 euro at current exchange rates.
A Holland & Holland Express rotary underlever rifle

Lot 799 is another gun from Manuel Lopo de Carvalho's collection, it's still an Express rotary underlever rifle, but this time it was manufactured by Holland & Holland, one of the most famous names among British gunmakers. Chambered in .450 caliber (31/4 in), it features a pair of 68 cm barrels with matted rib and two open sights with folding leaf marked at 50/150 and 200, 250 yards. The bead front sight is ramp-mounted. The barrels are marked "'HOLLAND & HOLLAND. 98. NEW BOND STREET. LONDON. WINNERS OF ALL THE "FIELD" RIFLE TRIALS. LONDON".
The Express features a rotary underlever locking system patented by Henry Jones, a Birmingham gunsmith who patented it in 1859. The stock is high quality walnut wood, with very evident grain and oval cheekpiece.
The bouncing hammers are dolphin-shaped and on the left side of the stock we find engraved "CHARGE 4 DRAMS CASE 3 1/4 INCHES". The serial number is 14296 and through it the manufacturer was able to confirm that the rifle left the factory on October 2, 1891. The Express comes in its original leather-covered case.

The starting price ranges from 3,500 to 4,000 pounds (4200-4800 euro).

A pair of 20-gauge over-unders by William & Son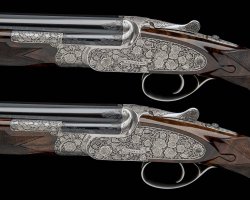 The second day of the auction will focus on contemporary fine guns. Among the highlights of the day will be lot 1351, consisting in a pair of 20-gauge over-unders manufactured by William & Son in London, engraved by Peter Cusack. It is a pair of modern guns built by a relatively new manufacturer.
British gun manufacturers are usually thought of as survivors of the golden age, small shops where the descendants of Holland & Holland or Purdey struggle to keep alive a tradition now threatened with extinction, but this is not the case.
William & Son, for example, was founded in 1999 by William Asprey, whose family has been selling luxury goods for seven generations from its London headquarters. William decided to complement his luxury product line with luxury guns and hired skilled gunsmiths from the most renowned British firms. Paul West, a former gunmaker at Holland & Holland who coordinates the work of eight gunmakers, was appointed as head of the gun department.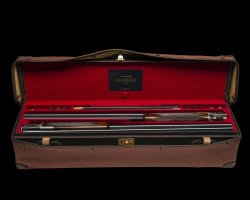 This pair of over-unders, numbered 1 and 2, is distinguished by its finesse of manufacturing and the very rich engravings by Peter Cusack that reproduce a triumph of roses. The retaining screws and the safeties are also engraved in the form of the head of a rose. The stock is particularly selected walnut wood with a finely checkered half-pistol grip. The 30"/76 cm barrels feature magnum 3-in chambers, 7mm matt ribs and are designed for Teague internal chokes. The guns come in a leather motorcase with canvas outer and internal accessory compartments.
Holts sales manager Ian Andrews said: "They are guns we are most proud of and represent the very best of British and London Gun making. They are perfect in their lines and a delight to shoot."

The rifles show slight signs of use. The starting price for this pair ranges from 30 to 40 thousand pounds, at the current exchange rate around 36-48,000 euro.

---
To find out more please visit the Holts website.