Between November 5 and 23, one of the most important historical gun auctions was held in Munich, organized by the specialized Hermann Historica auction house. Among the hundreds of lots for sale the superb collection created by Johann Lux with enormous zeal and expertise in over 60 years, stood out. It consisted of over 800 lots including exceptionally rare examples of the history of firearm development. The historical value of the collection is such that its catalog will continue to be considered a definitive post-auction reference book. By Hermann Historica's own admission, the auction broke every previous sales record. Let's see the results together.

Luger and Borchardt take it all in, the old West still fascinates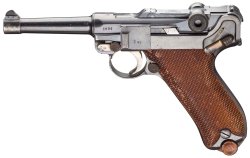 Here are some of the best results: a Luger 08, Erfurt 1911 pistol with various imperial acceptance marks, issued to the German South West Africa State Police was estimated at 4,000 euro and was auctioned for 16,000 euro. A "Zick-Zack" Mauser 1878 second version revolver sold for 5,200 euros.
It is interesting to note that in this case a particular version of an otherwise quite common gun managed to fetch a higher price than a numerically very rare piece. The German South West Africa, that occupied more or less the area of present-day Namibia, was in fact a German colony from 1884 to 1919 and therefore this pistol time frame is quite short, which greatly contributes to making it attractive for collectors.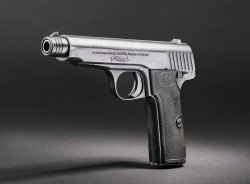 Other rarities in the classic firearms section drew much interest too. A crown jewel was the Borchardt C93 in the version produced by Loewe in only 1,100 pieces. This rare semi-automatic pistol, complete with holster-stock and box with original accessories sold for 18,000 euro. An interesting price also for the Walther Model 6 semi-automatic pistol in caliber 9 Parabellum, serial number 584, that started from 6500 euro and was sold off for 7,200 euro. The Walther Model 6 was an attempt by the Zella Mehlis-based company to produce a 9x19mm caliber pistol with a simple blowback action but it proved to be a failure: it was produced from 1915 to 1917 only in about a thousand pieces.

A Colt Model 1849 Pocket, factory engraved and offered for sale together with its original box, was just as sought after. Dating back to the production period between 1852 and 1860, it features hand-engraved company name and patent dates, making it extremely rare. This Colt revolver, beautifully preserved and in mint condition, opened the auction at 8,500 euro and was sold for the satisfying price of 12,500 euro.
---
For more information, please visit Hermann Historica website.