Browning Automatic Rifle M 1918 A2 demonstration model - lot 666 (photo 1-1A)
A really interesting 2:1 scale demonstration model of a Browning BAR1918 A2 automatic rifle. The model shows all the moving parts of the action, the gas cylinder system and the bolt. Springs are much weaker than the original weapon, to ease demonstration.

Hermann Historica GmbH, © Hermann Historica GmbH
The model is made of cast aluminum and sheet metal. The flash suppressor is detachable as well as the magazine, which holds sixteen plastic dummy cartridges that can be chambered and extracted. The model has no markings and is mounted on a wooden base with two identification plates. One identifies the manufacturer as J.H. Keeney, Chicago, while the other bears the inscription "Department of the Navy", the US Navy acceptation mark "USMC", the serial number 1640, and the year of production, 1954. Starting price: 10,000 euro.

Hermann Historica GmbH, © Hermann Historica GmbH
Savage Mod. 1907/1910 Military Test Trial Pistol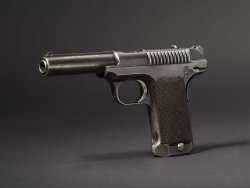 © Hermann Historica GmbH 2019
A semi-automatic Savage pistol in caliber .45 ACP, serial number 88, with all matching numbers with the exception of the rear sight (serial number S/N 53). 5-1/4" barrel, bright bore. The frame featuring walnut checkered grips holds an 8-round magazine. This pistol is one of 278 .45 cal. Savage trial guns – an oversized version of the 1907 model originally chambered in 7.65 Browning – made for the 1910 US Army test that was ultimately won by the Colt 1911 because the Savage was deemed too complicated for military use. After the test failure, the .45 cal. Savage production was discontinued (the 7.65 and .380 versions continued to be produced, anyway). It appears that 181 .45 caliber pistols were returned to the producer who sold them on the civilian market. The pistol is equipped with an automatic safety on the grip and a manual one on the frame. On the barrel left side it's marked "Savage Arms Corp. Utica N.Y. U.S.A." Considering its good condition, starting price is set at 9,500 euro.
Wheel carbine for boys, southern Germany, around 1610 - lot 11 (photo 3)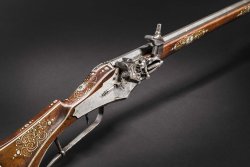 © Hermann Historica GmbH 2019
QThis exquisitely crafted wheel carbine was probably built in Nuremberg around 1610. Considering the reduced size it is conceivable that it was intended for a boy of 10/12 years belonging to a noble or even real family.
The rifle features a octagonal barrel with smooth bore in 9 mm caliber. Near the muzzle is the manufacturer's barely legible punch (crossed sword and wheellock pistol with "ISI"). Wheellock with external wheel, decorated with shell-shaped reliefs. The inside of the lock with remnants of original bluing. Walnut full stock with fine inlays of engraved and blackened bone, surrounded by filigree decoration. The starting price of this very unusual firearm is 20,000 euro.
An excellent all-metal wheellock pistol, Nuremberg around 1570/80 - lot 11 (photo 4)


© Hermann Historica GmbH 2019
Lot number 28 is a wheellock pistol, made entirely of metal and richly engraved. The octagonal/round barrel features a smooth bore, in 12 mm caliber. Nuremberg proof marks are on the pistol, along with an illegible mark – presumably the manufacturer's one – and the number 50 that was added in modern times.
The lock plate features a safety lever and is struck with "BK" and a spectacles-shaped mark. Hammer is richly engraved. The stock is in sheet iron, finely etched with birds and vines. The ball pommel is hollow and thanks to its hinged lid acts as a interior compartment. Non-original iron ramrod. Overall pistol length is 52.5 cm.
It is a rather rare gun, made even more precious by its excellent state of preservation. The starting price is set at 25,000 euros.
A pair of deluxe rifles with chemical locks, circa 1820 - lot 59 (photo 5)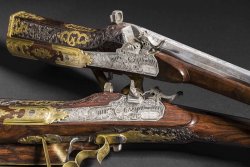 © Hermann Historica GmbH 2019
At the beginning of the 19th century European gunmakers tried to manufacture priming systems based on mercury fulminate or similar chemical primary explosives. Apart from the well-known guns manufactured in England with the Forsythe system that ultimately spread all over the world, there were numerous gunmakers particularly in Austria that used similar but non identical chemical priming systems. Among them also Joseph Reisinger of Wels, who in about 1820 made this pair of rifles with chemical locks ( presumably mercury fulminate). The rifles are numbered 1 and 2 and feature richly engraved lock plates with depictions of stags in a forest and the signature "Ios. Reisinger in Wels". Fine double set triggers. Stocks are made from high quality walnut wood, carved in low relief and embellished with richly engraved brass inlays. Noses are dark horn. Each rifle is accompanied by its original wooden rod with horn tip, 114 cm long. This is a pair of rifles of high-quality craftsmanship featuring a rare priming system, and very interesting from the oplological point of view because it marks – not only aesthetically – the transition from flintlock to percussion firearms. The near mint state of preservation justifies the starting price of 28,000 euro.
Mauser G 40 K Karabiner, experimental version of the K 98k - lot 758 (photo 6-6a)
This G 40 K rifle, with production code "byf - 41" is an experimental version with shortened barrel of the Mauser K 98k in caliber 8x57IS, the service weapon of the German army. On April 12 nd , 1940, the German military commissioned Mauser with a study on a shorter version of the K 98k with a barrel length of 49 cm instead of 60 cm and a sight up to 1,000 meters. On July 4 th , 1941, 12 rifles with the production numbers 3, 4, 6 to 15 were accepted. At the same time six rifles with a reinforced barrel were accepted after testing. They have the production numbers V78 to V83. The rifle up for auction at Hermann Historica with the serial no. V84 remained at Mauser, which explains why it survived. The experiment with the short barreled rifles were unsuccessful, probably due to the insufficient muzzle velocity developed by the 8x57JS cartridge and the project was abandoned.
Among the features of this variant we find a shortened barrel, a bolt handle knob drilled to reduce weight and a tangent rear sight scaled 1-12. Serial number V84 on barrel, action and sights, marked "byf 41" and "G 40 K" near the chamber. It is a practically unique version of a very important service rifle, which could certainly be the highlight in a themed collection. The starting price is 12,000 euro.

© Hermann Historica GmbH 2019

© Hermann Historica GmbH 2019
An extremely rare pair of flintlock pistols with brass barrels, circa 1660 - lot 78 (photo 7)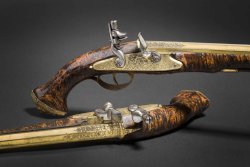 © Hermann Historica GmbH 2019
Among the pieces with a higher starting price we find this very rare pair of flintlock pistols with octagonal barrels built by Felix Werder, in Zurich, around 1660 (photo 7) Felix Werder (1591-1673), a Zurich-based gunmaker and goldsmith, became master in 1616 and was known for his pistols with brass lock plates and barrels. Some Werder's pistols are exhibited at the Metropolitan Museum in New York.
This pair of flintlock pistols feature a 14 mm caliber octagonal barrel, with light floral engravings that extend over the entire surface of the lock plate. Hammer and flash pan are iron. The stocks are beautifully grained birch root wood, the butt caps with grotesque mask in high relief. Original wooden ramrods with brass tips. Barrels were somewhat shortened during the time of use and presumably equipped with new stocks. Despite these modifications, Werder's pair of pistols maintains a high value, so that the starting price is set at 30,000 euro.
Schlund revolver prototype .430 caliber, year 1885 - lot 568 (photo 8-8A)
The Schlund revolver was designed by Harry Schlund, a technician at the Kynoch Gun Factory in Aston, Great Britain, that was actually established when George Kynoch's acquired the "Tranter Gun and Pistol Factory". Tranter was the manufacturer of the same-name revolver adopted by the British army in 1878.
The Schlund revolver is distinguished by the concealed hammer and the double trigger. The revolver features a double / single action with an ingenious system: to shoot in double action both triggers are pressed , while pressing only the lower one you can cock the hammer, allowing for single action fire. The hinged (top break) frame is like the Webley revolvers', with simultaneous case extraction.  The Schlund revolvers were offered to the London Metropolitan Police in different calibers and barrel lengths, but they were never adopted. It is believed that some six hundred were built before Schlund, probably frustrated by the commercial failure of his guns, retired from business. The example up for action at Hermann Historica is in .430 caliber with a six-round cylinder, with serial number 75. The barrel is octagonal. The starting price for this ingenious but unlucky firearm is 7,200 euro.