Since its establishment in 1998, Derya Arms has earned a solid place in the arms industry. Derya is a renowned manufacturer based in the Beysehir region of Turkey. The company carries out research and development, design and machine production on an industrial site with a total area of about 30,000 square meters. The quality of the products has proven itself worldwide and, above all, the prices are attractive: Derya exports 95 percent of its products to over 65 countries.
Incidentally, the name "Derya" means "sea" or "ocean" in Turkish – and it is also used as a metaphor for a person with an extensive knowledge and experience. This reflects the philosophy of Derya Arms, whose employees can look back on a long and extensive experience in firearms development. Derya guns are distinguished by the materials used and professional manufacturing standards. They are made in Turkey by qualified workers. After the strict internal control checks, the products obviously meet the quality requirements of the countries where they are sold.
With the new website at https://www.deryaarms.com/en, the Turkish company presents a wide range of products specifically tailored to the needs of sport and competition shooters, as well as hunters. Previously known primarily for its AR-style semi-automatic shotguns, the manufacturer now also offers a wide range of classic and tactical semi-automatic shotguns with and without tubular magazines, shotguns in bullpup design, over-and-unders and even lever-actions for hunting. AR semi-automatic rifles and, more recently, handguns have been added too. More on that later.
Briefly on the subject of R&D: Derya Arms has also developed its own technologies in recent years, which are used in the firearms. These include Daxos, an ambidextrous cocking handle system for semi-automatic shotguns, as well as Bufferbolt, a system that makes the recoil of the gun much more manageable, and Powerpull, a particular gas-operated system designed to make shooting even more comfortable.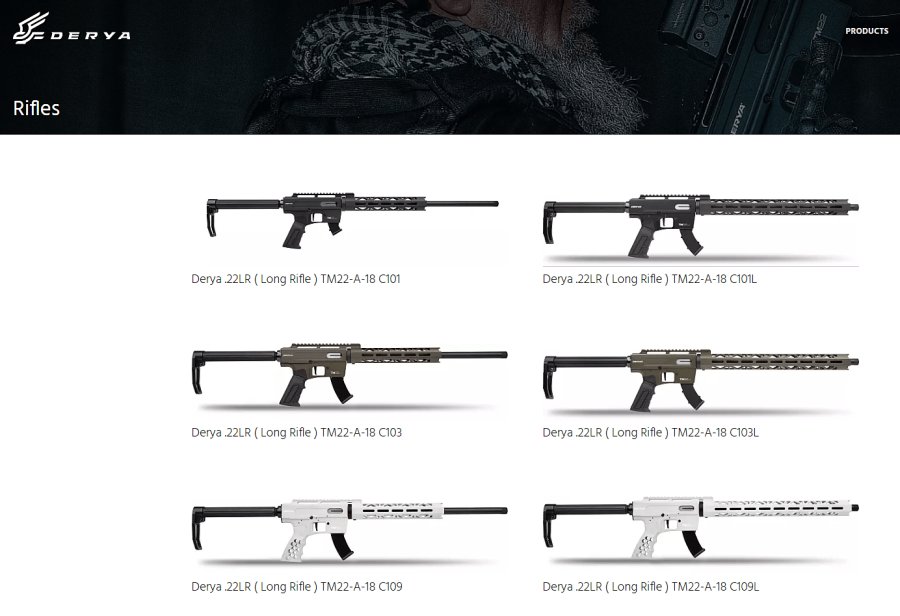 New: Derya TM22 semi-automatic and lever-action rifles 
The company's website is clearly structured and offers a comprehensive overview of the product range. We are greeted with an action-packed video in which a woman and a man complete tactical exercises on a course. In the process, the two use the latest models in the TM22 Feather line. These AR15-style semi-auto models are available in .22 LR caliber and complement the TM22 series already introduced last year.
The TM22 Feather models rely on polymer instead of aluminum, which makes them lighter and more cost-effective. They are available in numerous, even fancy color designs. The Derya TM22 semi-automatic rifles are listed on the website under the category "Rifles", where all specs of the various models can be found.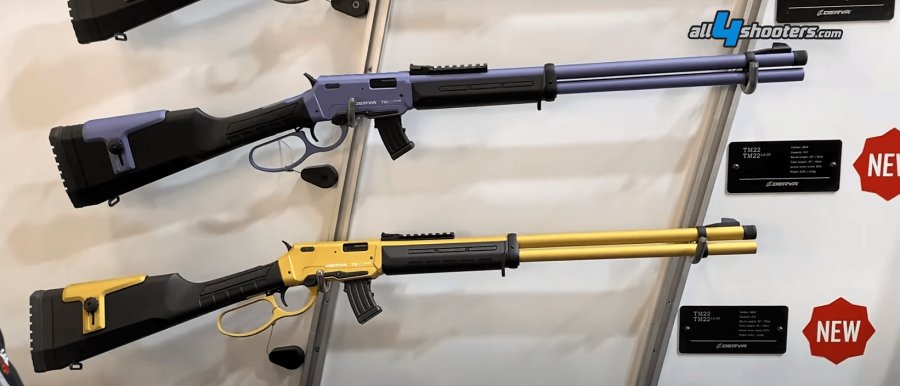 Also new from Derya is the TM22 LA-20, a lever-action rimfire rifle. Here, Derya takes the opposite approach and now adds a series to the TM22 LA polymer series introduced last year, where the previous plastic elements are replaced by 7075 aluminum parts. The "LA" in the name stands for Lever Action and the "20" refers to the 20-inch barrel length. The new model is ideal for cost-effective training shooting, practicing specific drills in Practical Shooting – which is popular in the USA – and for plinking.
The lightweight and handy rifle features an aluminum magazine. Unlike most .22 LR lever-action rifles, which have their ammunition loaded in a tubular magazine under the barrel, the TM22 LA-20 uses a curved box magazine that holds ten rounds. It comes with two such magazines, but optional magazines with a capacity of 15 or 25 rounds are also available. A Picatinny rail on the top of the body also allows the Derya TM22 LA to mount red dot sights or scopes. The cheek rest on the polymer stock is height-adjustable and the buttstock can be adjusted in length.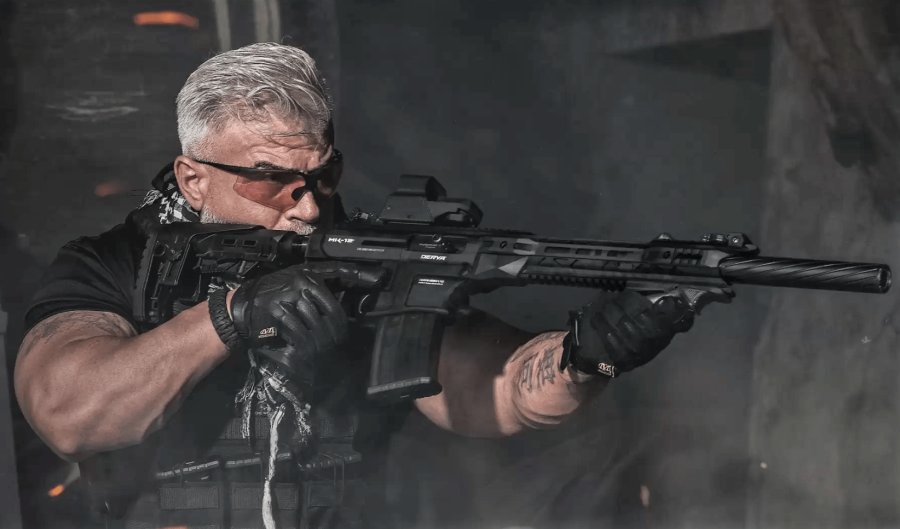 Derya: sporting semi-automatic shotguns, bullpups and more
As mentioned above, sporting semi-automatic shotguns have been the mainstay of the Derya Arms product line. The Derya MK-12 is a remarkable self-loading shotgun in the Derya Arms catalog: it was developed specifically for IPSC shooting and is available in five barrel lengths, from 24 to 61 centimeters. The Derya MK-12 features a special tactical trigger assembly, an oversized magazine release, an ambidextrous safety and an easily reversible charging handle. It can use 5-, 10- and 20-round box magazines for 12-gauge magnum cartridges (12/76). We have already tested the gun on the shooting range.
Derya VR70 semi-automatic shotgun
Another new firearm in the Derya Arms catalog is the VR70 semi-automatic shotgun in 12 gauge. It offers an alternative to the Derya MK12 self-loading shotgun and saves around 500 to 600 g in weight by using polymer. The polymer parts, such as the handguard, correspond to the aluminum parts of the MK12 and can also be exchanged for these if required.
Derya N-100 Bullpup semi-automatic shotgun
Besides the above models, Derya Arms also has other shotgun models in its offer. The Derya N-100, a bullpup auto-loading shotgun in 12/76, is appreciated for its high quality and performance. It is equipped with a 51 cm barrel and has a 5+1 tubular magazine. The N-100 is known for its reliability and accuracy, which makes it an excellent choice for sport shooters. We have already tried them out, as you can read here.

Derya Lion Practical semi-automatic shotgun

The Derya Lion Practical is another auto-loading shotgun designed specifically for IPSC sports. It features a 76-mm magnum chamber and a special trigger assembly, an oversized magazine release, an ambidextrous safety and an easily reversible charging handle. The Lion Practical can use 5-, 10- and 20-round box magazines for 12/76 cartridges. We have already shot the Derya Lion Practical on the range.
Meriva MR-100 over-and-under shotgun for hunting
The Derya Meriva MR-100 is a 12/76 ga over-and-under shotgun known for its robustness and versatility. It has a 71 cm long barrel. The Meriva MR-100 is an excellent choice especially for hunters. The Derya Meriva MR-100 offers a lot for the money not only for the novice hunter in terms of workmanship and features, but also in function. What the hunter misses, however, are sling swivel mounts. We were able to capture this and more in our test of the Derya Meriva MR-100 buckshot.
Derya AR9 ZY9 PCC and Melik pistol series in 9mm Luger
At Enforce Tac 2023, Derya Arms unveiled its brand new Melik line of pistols and new versions of its AR9 model, the ZY9. The Melik pistol with aluminum grip is available in 9mm Luger and comes standard with two 17-round magazines. Optionally, Derya offers various grips for the new Melik, including aluminum or wood panels in different colors. In addition to the 6" and 10" versions, the ZY9 models will also be available as carbine variants with 14.5", 16", 18" and 20". The handguns are not yet included on the site. So you need some patience here, because these models are not yet available from us.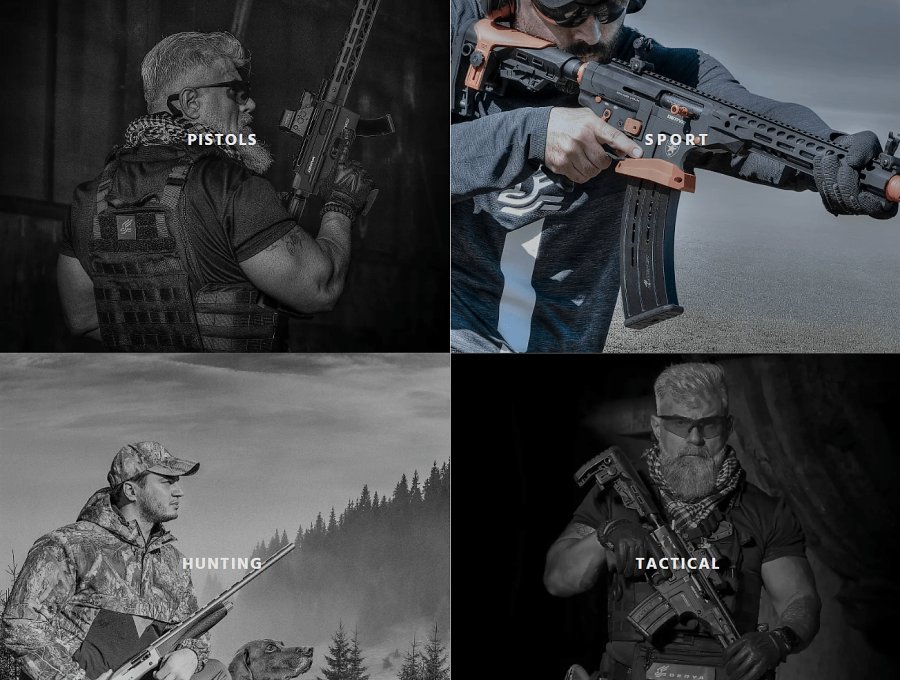 Our conclusion about the assortment and the Derya Arms' website
Facts and figures about the Derya firearms are not neglected on the website. Even a newcomer should quickly get an overview of the manufacturer's product families and their different fields of use. With descriptive information on functionality and application, you can get a good idea of which model is suitable for your own needs and how the product will perform in practice on the shooting range or hunting ground. In addition, the site offers a comprehensive overview of all available Derya accessories, as well as other informational resources: you'll find more videos, a dealer locator, and available catalogs and manuals for downloading.
In summary, Derya Arms offers a diverse range of high-quality hanguns and long guns suitable for both sport shooters and hunters, but also for law enforcement, if required. As we were able to see for ourselves at trade show events as well as on the shooting range, Derya keeps its finger on the pulse thanks to constant innovations and improvements and offers its customers high-performance products with fair pricing.

---
Pay a visit to Derya's new website by clicking on www.deryaarms.com and take a look around the various product categories.