Our video interview about the novelties from CZ:

After introducing the second generation of the TS (Tactical Sports) with the TS 2 pistol a couple of months ago, the successful Czech manufacturer Česká Zbrojovka (CZ) is expanding its P-10 series of polymer framed, striker-fired pistols with six new versions. The full-size P-10 F, the semi-compact P-10 SC, and the compact P-10 C are in fact now available in the new Optics-Ready and Suppressor-Ready (OR SR) versions. The P-10 F and P-10 S are also available as "Optics-Ready" (OR). Moreover, for the first time, CZ is introducing  a P-10 F chambered in the traditional US .45 ACP caliber. The P-10 F in .45 Auto with an impressive magazine capacity of 13+1 cartridges is likely intended primarily for the North American market.
For those who prefer a polymer-framed pistol with an external hammer, the compact CZ P-07 and the large P-09 in 9mm Luger are now also available in a "suppressor-ready" (SR) form.
All-steel: the new 9mm C75 P-01 Steel Black pistol
Fans of classic all-steel guns will also get their money's worth with the new C75 P-01 Steel Black in 9mm Luger. The compact pistol features the typical details of the 75 series, which incidentally celebrated its 45th anniversary last year. The pistol is available either with a double-sided safety or a double-sided decocking lever. Weighing just over 2.2 lb/1 kg when empty with the magazine inserted, the C75 P-01 Steel Black has a 3.87"/98.5 mm barrel and the magazine holds 15 rounds in 9x19. (CZ will discontinue production of the CZ 75 SP-01 Shadow Orange with the release of the new TS 2 all-steel match pistol series.)

The already large family of 457-series bolt-action rimfire rifles gets another addition with three new models. The 5.29 lb/2.4 kg CZ 457 Stainless in .17 HMR (1-9" twist), .22 Long Rifle and .22 WMR (both with 1-16" twist) combines a thin 20"/510 mm Stainless Steel barrel with a Digital Camo synthetic stock. Typical 457 features include an adjustable two-stage trigger, 5-round box magazine and a 1/2x20 UNF muzzle thread. In a complete package with an in-house CZ 3-9x42 scope, the CZ 457 Synthetic Set comes in .22 Long Rifle, though we suspect the optic may be from Czech manufacturer Meopta. With a 1" main tube diameter and second image plane reticle, the scope has fixed parallax at 50 yards and 1/4 MOA adjustment on the turrets. The 6.39 lb/2.9 kg CZ 457 Synthetic Set model features a 20" barrel with 1-16" twist and 1/2x20 UNF muzzle thread and polymer synthetic stock.


Previously represented in the CZ-USA line-up only, the CZ 457 AT-ONE is now offered in Europe as well. The sleek 7.93 lb/3.6 kg rifle in .22 LR features an adjustable laminate wood stock from US-based Boyds and a heavy 20" Varmint barrel with match cartridge chambering and 1-16" twist for top shooting performance. 

The return of CZ smoothbore guns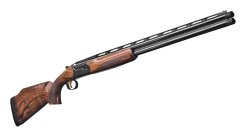 After several years of absence in this market segment, CZ is now offering shotguns again – a total of eight 12ga models including over-unders, semi-autos and pumps. Four classic over-under models (Drake, Redhead Premier, Supreme Field and All American) are available in various equipment/price levels. 
The semi-auto CZ 1012 and CZ 1012 Synthetic come with walnut or synthetic stock respectively. Among the pump-action shotguns, the CZ 612 Field sports a Turkish walnut stock, while the CZ 612 Home Defense has a synthetic stock.