Beretta USA, Benelli USA, Burris, and Steiner eOptics won't be at SHOT Show 2022. After SIG Sauer announced that they will not exhibit at the upcoming 2022 SHOT Show already a couple of months ago, now it's Beretta's turn. "Due to the sudden and dramatic increase of COVID-19 infections during the past 2 weeks, including many breakthrough cases, the Beretta Holding Group companies in the U.S.A. (Beretta USA, Benelli USA, Burris, and Steiner eOptics) have announced the immediate suspension of participation of their employees in large-scale indoor gatherings. This decision was made because of near-term staffing challenges and concerns about the ability to prevent contagion in enclosed, crowded spaces," they write in a brief press release.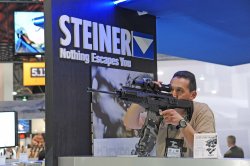 And in case it was not clear enough, they add: "Regrettably, this means that the companies will not be present in their booths this month at the National Shooting Sports Foundation (NSSF) SHOT Show in Las Vegas. The Beretta Holding Group companies in the USA confirm their full and continued support for NSSF's mission and have already pledged their exhibit renewal for the 2023 SHOT Show. The Companies will continue to closely monitor the COVID-19 situation as it evolves and will reassess their decision as appropriate later in the year."
Despite the organizers' high hopes, the worst fears have unfortunately been confirmed: the SHOT SHOW 2022 was born under a bad sign. 

---
Comment from all4shooters.com on SHOT Show situation 2022:

SIG Sauer had cancelled SHOT Show participation already in October 2021 using the same arguments. The Omicron risk is growing day by day with high infection rates also for fully vaccinated people. What a difficult situation! For the organizers, exhibitors and all international visitors. The other important question is the situation of the upcoming European Trade Shows in our segment: EOS in Verona (Feb 12-14, 2022) or IWA in Nuremberg (March 3-6, 2022). We wil keep you updated.