SIG Sauer will not exhibit at the upcoming 2022 SHOT Show on 18-21 January 2022. The reason? The Covid-related health risks for SIG employees – but not just that: there are financial reasons too.
The shocking announcement – in the last 30 years SIG Sauer has always been one of the "big brands" to take part to the SHOT Show and their products are usually real highlights – comes in a press release. "As a strong supporter of NSSF, and an industry leading manufacturer, SIG has maintained a very large presence at SHOT Show and we continually grow our support for the organization, and our show presence, year after year. However, after thoughtful consideration, deliberation and a review of current circumstances, SIG SAUER has made the decision to not exhibit at the upcoming 2022 SHOT Show." Alternatively, SIG Sauer will be making a $500,000 donation to the National Shooting Sports Foundation (NSSF) "to support both its mission and ongoing critical support of our industry."
"Not financially prudent"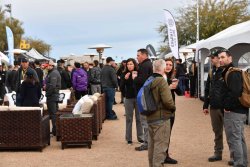 "Our number one priority throughout the pandemic – they add in the official statement – has been, and will remain, our employees. SIG SAUER has an extremely large presence at SHOT Show sending over 140 employees to the show and our pre-show Range Day event. Maintaining this presence, or even a scaled back minimum presence for 2022, represents a significant health risk to all 2,600 of our employees across our 13 US locations, as individuals attending the show return to our facilities and risk continued exposure to our entire employee base."
But as mentioned, there is more: "Additionally, based on the circumstances as they are known to us today, it is incumbent upon us to review this decision from a financial perspective. For the first time in many years, the SHOT Show space was redrafted, necessitating the need for a complete booth re-configuration and design. Out of pocket expenses from this point forward will be well over $1 million and based on the uncertainty of large scale shows and events, this expense is not financially prudent."
---
Certainly it's not a good restart for the SHOT Show after the cancellation of the 2021 edition. What can be said for now is that the never-ending pandemic continues to make victims – one way or the other.