Beretta Holding was listed as a direct exhibitor at this year's IWA OutdoorClassics with its brands Beretta, Benelli, Burris, Chapuis, Franchi, Sako, Tikka, Steiner-Optik and Stoeger, but a conventional exhibition booth where all products were presented was not to be found at the specified location. Instead, the visitor found there a box-like office wing used as a conference and business complex for business meetings. But still, of course, trade visitors were able to take a look at the firearms, equipment and accessories of these brands at IWA. Those who wanted to see the new and current products, however, could do so just a few steps away in the same hall directly opposite at the booth of the German importer of these brands, Manfred Alberts GmbH from Wiel, which was flying the flag there for Beretta.
Beretta brand ambassador Danielle Valkyrie introduces her Beretta APX A1 and 92X Performance pistols in video at IWA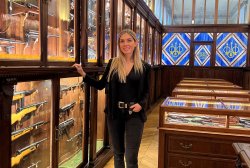 Since Beretta Holding also acquired the Ammotec Group from the Swiss RUAG Group last year, it's no surprise that products from Beretta were also a topic during the "#sharethepassion" livestream on the RWS Stage at IWA Outdoor Classics 2023. In one of these English-language videos, for example, popular Beretta brand ambassador Danielle Valkyrie explains how she came to Beretta and why the Beretta APX A1, the latest model in this line of polymer-framed striker-fired pistols, is the gun she currently shoots most often. Along the way, she also explains there how she came to use ammunition from GECO. Beretta and RWS, which is now part of Beretta Holding and also distributes the GECO brand, approached the pretty Austrian influencer around the same time to hire her as a brand ambassador. At the time, Danielle was looking for a new pistol and Beretta invited her to its headquarters in Val Trompia, where the Beretta Villa with the Beretta Museum and the Beretta main factory are located. There they showed her the brand new Beretta APX A1, which was not even on the market at the time, and she immediately fell in love with the pistol. So they started working together and now she shoots the APX A1. It is, as Danielle says, the gun she shoots the most. What she likes about it: "The APX A1 doesn't have finger grooves, which I really like because I don't want my hands forced into a certain place on the gun. It has an undercut that allows for a better grip. The trigger is very crisp, has an easy pull and a very quick reset. The pistol also has very aggressive and sexy looking serrations on the front and it is optics ready. Red dots help with shooting and you get to your targets faster. I myself use a Steiner MPS. It's very rugged, compact and allows for quick target acquisition." But just take a look for yourself in the following English-language video.
This video has been hidden because of an external service (YouTube) that could potentially collect personal data.Allow video services for the duration of the visitAllow video servicesStop allowing video services
Since the video was not produced by all4shooters.com, we unfortunately have no influence on the start. If you don't want to spend too long waiting for it to start, feel free to skip ahead to timecode 0:54.
Besides the Beretta APX A1, Danielle also shoots a Beretta 92X Performance. If you want to know why the successful Austrian feels so comfortable with her 92X on the shooting range, just take a look at the video linked above. A detailed review of Beretta's latest all-steel pistol in 9mm Luger can be found here at all4shooters.com. And if you want to know more about the Beretta APXA1 in 9mm Luger, you can also read it here on all4shooters.com.
Beretta and RWS sponsor the Monocular Hunting Video Awards
The following video is also about a joint effort between Beretta and RWS. Both acted as main sponsors for the "The Monocular Hunting Video Awards" (THVA) competition, an award for which hunters who capture their passion in videos can apply or be nominated in a total of four categories. The awards ceremony for the Hunting Video Awards 2022 will take place in spring 2023. Learn more about the THVA in the following video.
This video has been hidden because of an external service (YouTube) that could potentially collect personal data.Allow video services for the duration of the visitAllow video servicesStop allowing video services