Here you will find the wording of the manufacturer's notification:
Despite the great care we invest in the production of our GECO® pistol- and revolver cartridges, it is still possible that in rare cases, defects in workmanship may creep in that are not noticed immediately. This applies to products with the aforementioned lot number. In individual cases, the load of the cartridges may not live up to GECO's usual high standards of quality and functionality, leading to malfunctions in the internal ballistics. We take these things seriously as a conscientious manufacturer of brand products, which is why we are initiating the precautionary measure of organizing a recall to prevent possible injuries or damage.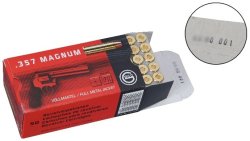 Only the GECO .357 Magnum FMJ - Art. No.: 2317720 - with the manufacturing codes O001, O002, O009 and N017 are affected by the recall.
You will find the manufacturing code on the inside the of the package side plate. The recall does not refer to any other manufacturing codes. 

We regret the inconvenience and are extremely grateful for your understanding.

Contact: Please do not hesitate to contact us in case of questions, e-mail: info.ammotec@ruag.com  
---
GECO is a registered trademark of RUAG Ammotec, a RUAG Group Company

GECO is the abbreviation for the ammunition factory Gustav Genschow & Co., founded in Stralsund, Germany in 1887. Since 2002, this brand has belonged to RUAG Ammotec. Today, it represents a modern, broad and high-quality range of hunting and sport ammunition as well as targeting and observation optics with an attractive balance of price and performance. 

RUAG Ammotec belongs to the Swiss technology corporation RUAG Holding AG, which is headquartered in Bern.