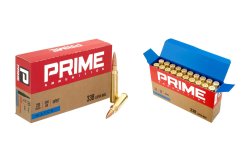 Part of the new Prime Manufacturing Group (PMG), the Prime Ammo brand is a first-timer at the Las Vegas SHOT Show 2016, and a totally new entry in the north American civilian ammunition market since last autumn.
Available only on the U.S. market, the products branded with PRIME Ammunition  are being distributed mainly through the brandnew website www.primeammo.com. PRIME is currently working on a network of retailers in the US.
As of today, the PRIME Ammunition catalogue comprises five rifle calibers – .223 Remington / 5,56x45mm, .260 Remington, .308 Winchester / 7,62x51mm, .338 Lapua Magnum, 6.5 Creedmoor – and three pistol calibers – 9mm Luger, .40 Smith & Wesson and .45 ACP – as well as at least six variants of the popular .22 Long Rifle round in bolt-action oriented, supersonic and subsonic versions, and both full-sized and "compact" 12-gauge shotshells with buckshot or slug loads.
What's behind PMG?
PMG is a new company founded by Arsenal Firearms, Salient Arms International and PRIME Ammunition to drive new technology innovation and manufacturing for advanced weapon systems. At SHOT Show 2016, we lead with Arsenal's fantastic new locking technology, the AF-Speedlock that has been created to move striker fired weapon systems to a completely new level of performance. Salient combines performance and design with a perfect balance of ergonomics, aesthetics and reliability in Pistols, Rifles and shotguns. SAI has put all their knowledge and skill set into the STRYK A and STRYK B pistols. PRIME Ammunition delivers the extraordinary Match+ Swiss factory loads, designed by PRIME, developed and manufactured by RUAG Ammotec, the European market leader - known for precision, reliability and long lasting overall performance quality.
Have a look at the booth of PMG at SHOT Show 2016: