The new Hornady Ballistic Calculator App has just been made available free for iOS (Apple) and Android OS. Mobile apps are a part of everyday life even for shooters. It's no surprise that a world famous manufacturer of ammunition and handloading components like Hornady has taken steps in that direction. The Hornady web Ballistic Calculator - that was already on line since last year-  is now a handy app to be used from mobile devices. 
A Free Mobile Ballistic App with 4DOF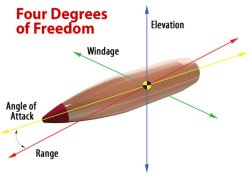 It features advanced 4DOF (4 degrees of freedom) trajectory and ballistic calculations based on Doppler Radar measured bullet drag coefficient inputs. It also includes BC based calculator and an ammo library. With the new app shooters can calculate ballistic data offline even when no wireless connectivity is available.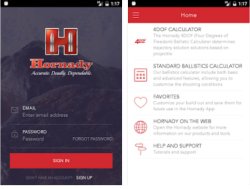 The meaning of the "4 degrees of freedom" is explained by Dave Emary, Hornady Chief Ballistician: "Current ballistic calculators provide three degrees of freedom in their approach - windage, elevation and range, but treat the projectile as an inanimate lump flying through the air. The program incorporates the projectile's movement in the standard 3 degrees but also adds its movement about its center of gravity and subsequent angle relative to its line of flight, which is the fourth degree of freedom."

This fourth movement is the so-called "aerodynamic jump", i.e. the vertical shift caused by the contact of the bullet with crosswind. This way the   Ballistic Calculator can calculate accurate trajectories at extreme ranges. Hornady indeed claims it's the "most accurate commercial trajectory program available", taking into account the exact physical modeling of the projectile, its mass and its aerodynamic properties.

A calculator for long range match and hunting style bullets
The calculator bullet files includes long range match and hunting style bullets with data regarding Hornady bullets (including ELD-X and ELD Match bullets), but also for other ammunition makers such as Sierra, Berger and others.  
The App also features a standard BC-based calculator for use with bullets not listed in the 4DOF database, and shooters can create their own list of "favorites" combining weapons, optics and ammo used. Lastly, the Hornady Ballistic Calculator App, which can be downloaded free, is Bluetooth-enabled to communicate with wind meters.