Article also available in other languages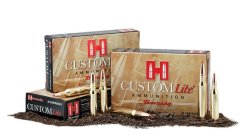 The year 2013 has been somewhat rocky for the ammunition industry, particularly in the United States.
Halfway through last year, a packet of gun control measures was pushed in the United States Congress by the anti-gun movement; although they failed − their only success was in passing a few restriction in some individual States, which are now being challenged in Court − the market reacted with a buying frenzy, which caused a shortage of all the most popular ammunition chamberings mostly everywhere in the United States and forced ammo manufacturers in America and abroad to boost their production capabilities in order to meet the increased demand.
Hornady Manufacturing stood well high above all competitors in this, managing to meet the increased request with an enhanced manufacturing volume without a sharp rise in prices or a sharp fall in quality, while at the same time maintaining their Research & Development efforts; as a result, the company was awarded with the title of 2013 Ammunition Manufacturer of the Year by the NASGW, the United States National Association of Sporting Goods Wholesalers.
Now, remaining true to its commitment to constant improvement, the company announced the imminent launch of a plethora of new ammunition loads, which are hitting the stores as you read these lines − if they already didn't already.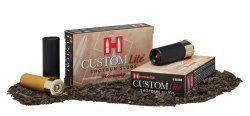 Amongst them, the Custom Lite line of rifle ammunition definitely deserves the highest interest.
Hornady's Custom Lite rifle and carbine rounds will be available in eight popular hunting calibers (.243 Winchester, .270 Winchester, 7mm-08 Remington, 7mm Remington Magnum, .30-30 Winchester, .308 Winchester, .30-06 Springfield, .300 Winchester Magnum), and will provide reduced recoil and muzzle blast from standard cartridges, so to put the fun back into shooting for kids, women, and every shooter looking to keep recoil to a minimum while still enjoying the use of their favorite rifle. Loaded with either the Hornady SST or Interlock RN bullet, Hornady's Custom Lite ammunition is designed to deliver less felt recoil and a modified trajectory that still provides accurate, deadly, and dependable performance.
Same goes for the Custom Lite line of shotgun ammunition; specifically conceived for slug guns, and previously available only in 12-gauge versions, these shotshells will now be available in a 20-gauge, 3" chambering, all loaded with a 250gr. FTX slug, delivering 25% to 40% less recoil over standard loads.
Yet another line of shotshells from Hornady will also be offered in a 3", 20-gauge variant − a proof of how the popularity of this caliber is steadily increasing between hunters and sportsmen worldwide.
The Heavy Magnum Turkey 20-gauge shotshells will give turkey hunters even more options, being loaded with 13⁄8 ounces of #5 nickel-plated lead shot; as a comparaison, the previously-existing 12-gauge, 3" option features 1½ ounces of either #4, #5, or #6 nickel plated lead shot.

Shot deformation is minimized, thanks to the thickest nickel-plating in the industry, which reduces fliers and keeps more pellets on target for dense patterns.
Hornady's Heavy Magnum Turkey loads employ the Versatite wad to do the patterning, which typically patterns best with an improved cylinder or modified choke. The wad strips cleanly from the pellets in flight without disrupting them, resulting in a shorter shot string that delivers more collective energy on impact. At 1300 feet per second for the 12 gauge load, and 1200 feet per second for the 20 gauge load, Heavy Magnum Turkey ammunition allows hunters to achieve lethal results out to 50 yards.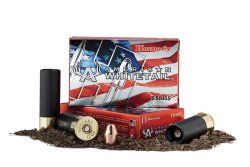 Shotgunners will also want take advantage of Hornady's American Whitetail slugs for all their big game hunting needs.
The American Whitetail shells are loaded with 325-grain InterLock shells: a hollow point. serrated design initiates rapid expansion upon impact, and a tough, lead alloy core is lethal out to 200+ yards, while the InterLock ring locks the core and jacket together to deliver controlled expansion combined with excellent weight retention, energy and accuracy, so that the lead alloy core shell will hit heavily enough to take down even the biggest deer or boar.

The rigid polycarbonate sabot, with an exclusive buffer disc, combine to open uniformly without compromising accuracy at longer ranges. The end result is an accurate delivery system for a tough shotgun slug capable of taking the biggest midwestern whitetails.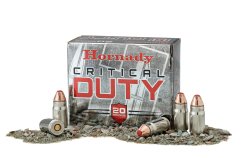 The last addition in Hornady's ammunition line has been conceived for pistol shooters, concealed carry permit holders, law enforcement and private security personnel: the Critical Duty line of pistol loads will now feature a .357 Sig option.
As shooters worldwide know well by now, Hornady's Critical Duty pistol rounds are loaded with a patented FlexLock bullet, incorporating two revolutionary features: the patented FlexTip, that initiates consistent expansion every single time while preventing any clogging; and the heavy duty InterLock band that locks the jacket and core together and keeps the bullet and core from separating for maximum weight retention and proven terminal performance through all FBI test barriers.
Loaded on nickel-plated crimped cases − ensuring no bullet setback during feeding, resisting corrosion and greatly enhancing low-light chamber checks − Hornady's .357 Sig Critical Duty rounds will be loaded with 135-grain FlexLock cannelured bullets, featuring an high-antimony lead core that delivers controlled expansion for unparalleled terminal performance consistency while remaining cheaper than similar bonded bullets. Now, law enforcement and tactical professionals will have another choice in Hornady's truly advanced, 21st Century handgun ammunition solution that delivers the most consistent and reliable urban barrier performance ever created.
This video has been hidden because of an external service (YouTube) that could potentially collect personal data.Allow video services for the duration of the visitAllow video servicesStop allowing video services
Hornady's new products line − announced by the Company in late 2013, first showcased to the public at the SHOT Show in January and at the IWA & OutdoorClassics in March, and now largely available in stores − is not limited to ammunition: it also includes new reloading balls and equipment, new quick-access safes for home defense handguns, new apparel, and much more.
Manufacturer's suggested retail prices for these new products have already been announced for the U.S. market − and are to be found on the Hornady website − but as of today, for some of them there still is no clear informations concerning slated availability or pricing outside of the United States.

Perspective non-US customers should thus inquire with their local Hornady distributors: the company website hosts a comprehensive list of authorized global importers.