The first ammunitions manufacturer to do so worldwide, GECO now offers a complete range of products for IPSC shooting and dynamic shooting disciplines. It is not only shooting with handguns which has grown in popularity — shotguns and small-bore rifles and pistols are also gaining an increasing amount of attention. That is why GECO has decided to complement its existing IPSC range comprising small-bore ammunition, rifle cartridges and shotgun cartridges with three new shotgun shells as well as a specially developed .22lr rimfire cartridge.
This video has been hidden because of an external service (YouTube) that could potentially collect personal data.Allow video services for the duration of the visitAllow video servicesStop allowing video services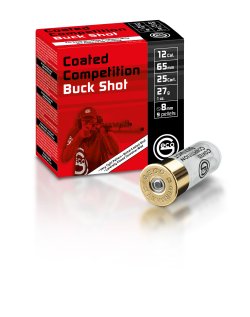 Frank Michael Eckstein Fuerth 90763
The new GECO rimfire cartridge for IPSC
The new GECO .22lr DYNAM-X was designed specifically for the needs of IPSC shooters. It generates 90% less lead emissions thanks to its non-polluting primer and the innovative shot coating. Studies have shown that around 75% of the lead emitted from rimfire cartridges comes from the projectiles. With the GECO .22lr DYNAM-X, the manufacturer RUAG has reduced the lead emissions in the shooter's path and in closed shooting ranges by over 90% by combining SINTOX — which is free of heavy metals and non-polluting — with optimized and coated projectiles. The GECO DYNAM-X is available in a bulk pack containing 450 cartridges. This significantly facilitates the handling of the cartridges.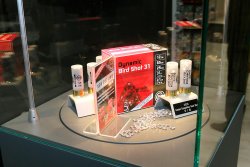 Three new GECO shotgun cartridges for IPSC
GECO now covers all cartridge types for the IPSC shotgun category. Whether it's for stages with falling targets, where mainly lead projectiles are used, or for stages in which buckshot must be used, or for exercises which need to be completed with shotgun slugs: the new GECO range has the right shotgun cartridge for every situation and shooting range.
In addition to the GECO Coated Competition Slug which has been available for several years now, GECO now offers three additional shot variants for IPSC:
GECO COATED COMPETITION BUCK SHOT – a buckshot cartridge with 8 shotgun pellets
GECO DYNAMIC BIRD SHOT 29 – a lead shot cartridge with a 29g load
GECO DYNAMIC BIRD SHOT 31 – a lead shot cartridge with a 31g load
During dynamic shotgun shooting, the aim is to achieve good coverage, i.e. a tight burst. This is why all new cartridges are equipped with a shot cup that is laterally closed to reliably prevent the shot from scattering excessively.
Details and prices for the new GECO IPSC shotgun cartridges for 2016
Description    

Caliber    

Shot
weight
(g)    

Shot
diameter
(mm)    

No. per
package    

Price per
package
(euro)    


Coated Competition Slug

12/67.5    

26.0    

---
100
70.90
Coated Competition Buck Shot    

12/65    

27.0
---
25
13.90

Dynamic Bird Shot 29

12/65    

29.0
2.75
25
10.90

Dynamic Bird Shot 31

12/65    

31.0
2.9
25
10.90