Berger releases its new 7mm 184gr F-Open Hybrid Target Bullet. The bullet was designed by Berger's ballistician Bryan Litz to be slightly heavier, slightly longer and have a more aggressive ogive shape. According to the manufacturer, this ballistic profile optimization offers a ballistic advantage to existing Berger 7mm 180gr Hybrid and VLD Target bullet designs. The bullet complements the 30 cal 200.20x Hybrid Target bullet that was released last year in collaboration with the US F-TR Rifle Team. 
The partnership with the US F-Open Rifle Team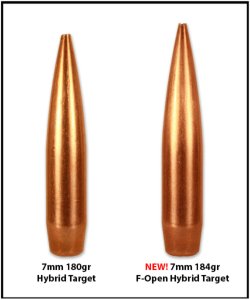 The new product will be the official 7mm bullet of the US F-Open Rifle Team. F-Class, one of the most popular and fast growing precision rifle shooting disciplines, is shot prone at distances of 300 to 1200 yards. Competitors may use almost any caliber rifle up to a .338, a scope, and a front and rear rest or bipod. 
The United States Rifle Team 2021 F-Open tested the new Berger 184gr F-Open Hybrid bullet, helping in its development. "Many members have tested the prototype bullets with outstanding success," says Dan Bramley, Team Captain. To support the team, Berger Bullets also announced that they will donate $1.00 for every box of 7mm 184gr F-Open Hybrid bullets sold towards U.S. Team expenses for the upcoming 2021 F-Class World Championships in South Africa.
The 7mm 184gr F-Open bullet is suitable for loading into 7-08 Rem, .284 Win, 7mm SAUM, 7mm RUM, 7mm Rem Mag and other popular 7mm cartridges.