Wiley X is a worldwide renown manufacturer of eye and glove protection products for hunters, sport and tactical shooters and any outdoor and professional activity.
At the 2017 edition of the IWA expo in Nuremberg (Germany), Wiley X showcased a new version of the WX Rogue eyewear, called WX Rogue Comm, featuring a very interesting super low profile temple specifically designed to be used in conjuntion with headsets, eliminating any pressure points on the head of the user.
Features of the WX Rogue Comm
This extremely thin temple design solves two problems: no more headaches due to the localized pressure exerted in a very sensitive area of the head by the temple from the headset's earpiece, and also does not decrease the headset's protection against noise eliminating the possible gap from a thick temple interferring with the earpiece seal against the ear area.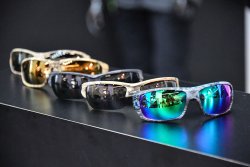 Being essentially an update of the very popular WX Rogue eyewear introduced last year, the Comm also features all the previous advantages of the WX Rogue: easily interchangeable lenses, protection against UVA, UVB and high-velocity ballistic impacts, excellent viewing clarity, superior coverage and peripheral vision, a lightweight matte black half-frame with an adjustable wire core rubberized nose bridge. 
The WX Rogue Comm goggles are offered in two- or three-lens interchangeable lens kits featuring Wiley X's T-Shell scratch resistant and Foil anti-fog coated Selenite polycarbonate lenses. In-goggle prescription lenses holders are also available.
Price of the new WX Rogue Comm
MRSP for the new WX Rogue Comm is 129 Euro, in the three lens kit.
Other innovations from Wiley X
Wiley X also showcased new Kryptek color schemes for many of its already presented protective eyewear products, including the Omega, Boss and Valor sunglasses. Everything Wiley X manufactures is certified as protective eyewear.