A new line of triggers called the Timney Alpha Competition: with it, Timney Triggers, the oldest and largest trigger manufacturer in the world, is celebrating its 75th anniversary.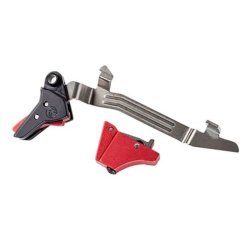 The first trigger of the series is designed for the GLOCK generation 3 and 4 pistols. According to the manufacturer, it "combines the reliability of the GLOCK system with the trigger feel of a racegun. A trigger like a 1911 pistol for the GLOCK". "The standard trigger has to pull the firing pin back a little before each shot, which leads to a spongy break and a creeping trigger characteristic," they explain. Thanks to a newly designed receiver unit in the trigger housing, "the Timney Alpha Competition trigger keeps the GLOCK's firing pin fully cocked, allowing a clean 3 pound break without creep when the shot is fired".
"In combination with the shortened take up, the newly developed trigger return spring, and the straight trigger made from anodized aluminum, Timney has created a trigger with real matching properties. Shane Coley, multiple US Champion and Team GLOCK Captain, was directly involved in the development. Competition shooters in particular will be enthusiastic about the new Timney Alpha Competition trigger, but also sport shooters who were previously not convinced by the GLOCK standard trigger."
The first Alpha Series fits into the following GLOCK standard models: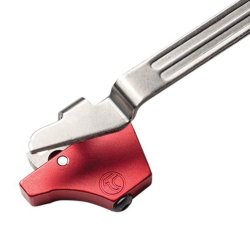 GEN 3: G17, G17L, G19, G22, G24, G23, G34, G35
GEN 4: G17, G19, G22, G23, G34, G35
Almost all parts of the new trigger are made from original GLOCK nickel Teflon-coated parts, and every trigger is hand-assembled, tested, and calibrated before it leaves the Arizona factory.. Most importantly, Timney points out that the safety of the trigger and firing pin of the GLOCK is not affected by the new trigger, also stating that in the course of development a 10,000-round endurance test was passed with zero malfunctions.
Installation is "drop-in" and straightforward. A video featuring Shane Coley, Team GLOCK Captain , shows how easy it is:
This video has been hidden because of an external service (YouTube) that could potentially collect personal data.Allow video services for the duration of the visitAllow video servicesStop allowing video services
Ferkinghoff International offers the new trigger for 199.95 euro. Other models in the Alpha Series, such as the GLOCK Gen5 will follow.