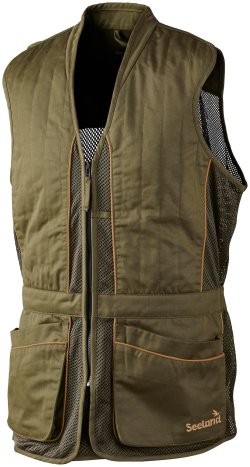 Skeet shooting vest
- Champion vest.
There is a certain eye for detail in the new Seeland Skeet shooting vest. And that eye belongs to a former World Champion and Olympic contestant in - you guessed it - skeet shooting. 
Pro skeet shooter Jesper Hansen from Denmark has helped us design and develop the ergonomic fit of the vest. 
The flexible shoulders provide great freedom of movement and the large quick-load pockets, which have been moved to the side of the vest to improve balance, hold plenty of ammunition – these are the small details that mean the world to a competitive shooter.

RRP: € 69.95    

Skeet Lady shooting vest
- For the claydies.
Wearing the Seeland Skeet Lady shooting vest you don't have to think about anything else than hitting the targets. 
The vest offers flexible shoulders, large ammo pockets and a fit that gives you optimum freedom of movement on the shooting range. 
There is a pocket for cushioning gel pads on the shoulder, and the mesh panels make the vest lightweight and ventilated. RRP: € 69.95

Tournament shooting vest
- Large movements on the range.
The new Seeland Tournament style is a functional and practical shooting vest for the shooting range. The vest features large pockets and leather reinforcements on the right shoulder with room for cushioning gel pads. The flexible back provides freedom of movement providing optimum conditions for hitting all clay targets on the range.

RRP: € 99.95