Based in Jacksonville, Florida, Safariland has been doing pioneering work for decades with legendary US shooters such as Bill Rogers, Arnt Myhre, Scott Carnahan (recently retired) and Rob Leatham. As active top shooters and part of the scene, the design and engineering crew always knew what really mattered in the field. The minimalist holster body is made of neatly machined aluminum and features a steel ball joint on the back that allows a variety of adjustments in terms of position, belt height, and draw angle while ensuring maximum stability. Because a wobbly holster leads to a wobbly draw, which are sub-optimal starting conditions for a fast, accurate first shot. 
Safariland – lots of expertise: how the 015 Open Top Competition works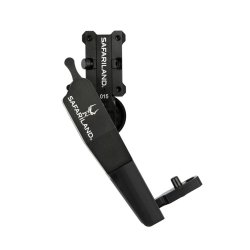 The holstered gun is held in place with a rotating lock that secures the handgun into the trigger block to ensure maximum carry safety. The lock is deactivated during the natural grip motion without loss of time to complete the drawing process cleanly. Safariland's typical, well thought-out holster-magazine pouch-belt complete system with male and female adapter plates allows the components to be separated while maintaining the user's set equipment position. In addition, Safariland is known for keeping gear in place bombproof in the heat of competition stress. An optional muzzle adaptor, adjustable to barrel lengths from 4" to 7.5", is also available to extend the holster and add even more stability. The 015 Open Top competition holster is designed to fit competition belts with widths of 1.5" and 1.75" and is primarily designed for typical IPSC 2011 pistols in the Open and Standard Divisions. Thanks to the holster design, these "Custom Guns" can be equipped with thumb rests, compensators and other gimmicks without this limiting the carrying comfort or the quick first shot readiness.
However, it is of course available for other gun models to choose from. The 015 Open Top competition holster is available in black, red or blue and costs 223 USD (about 183 euro) in the USA (323 USD – about 273 euro – with 015A Muzzle Adaptor).