Like its predecessors, which were launched last year to mark the 40th anniversary of the Glock P80 and the 35th anniversary of the market launch of the first Glock pistols in the USA, the new Glock watch called Global Watch also features a solar panel integrated into the dial. This allows the internal battery to be recharged at any time using daylight or artificial light. When fully charged, this is enough to keep the watch running for six to twelve months, depending on operating conditions and usage habits.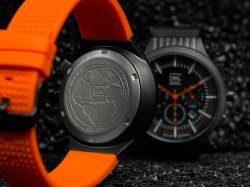 We still find the idea of the quickly interchangeable wristbands particularly clever. This allows the wearer to quickly give the watch a different color look. The scope of delivery includes a black mesh band with a modern folding clasp and an orange silicone strap with a classic pin buckle. The orange strap also features the surface texture found on the RTF grips of the current Gen4 and Gen5 models. However, this Rough Texture Frame design is just one of the iconic Glock attributes that the new Global Watch brings to the table. On the black-coated titanium case, where the straps attach it features grooves reminiscent of the serrations on the slide of the Glock pistol. In addition, the dial, the case cover and the clasps are each adorned with the Precision logo, i.e. the same one that Glock uses on the pistols.


The Glock Watch Global has a scratch-resistant sapphire glass and is marked as water-resistant with the value "10 ATM", so it should also be able to be worn without hesitation when swimming and always perform its service reliably. The manufacturer promises that this is the case, true to its own motto "Precision & Perfection", by pointing out that the watch was tested by Glock engineers and passed all tests for corrosion resistance, extreme temperatures, water resistance and vibration and scratch tests.

The new Glock watch with chronometer function and daily calendar comes together with the two described interchangeable bands and a detailed instruction manual in a practical storage box made of orange plastic. The box is of course padded on the inside and features a Glock logo.

The watch, which is not limited this time, is scheduled to go on sale in mid-September at a non-binding recommended retail price of 330 euros.