Hornady is a US company well known both for its long and short gun ammunition and for its home reloading accessories. But not everyone knows that the company based in Grand Island, Nebraska, is also at the forefront in the production of safes specifically designed for firearms. In particular, Hornady has been offering for several years now the small RAPiD Safe, with keypad or biometric opening, which allows the gun to be kept on the bedside table, or in any case where it can be easily reached from the bed, with the guarantee that it cannot be removed by criminals.

RAPiD Safe Night Guard: details, featueas and price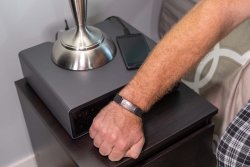 The new RAPiD Safe Night Guard model moves the bar even higher thanks to the use of proprietary RFID (Radio Frequency Identification) technology that offers the quickest and most reliable access to your firearms, while providing unparalleled security against access by unauthorized users.
In addition, the RAPiD Safe Night Guard now offers the additional functionality of a digital clock and two charging ports, a USB-A and a USB-C USB, that provide a convenient charging option for mobile phones or other devices.
Patented RFID technology allows the safe to unlock faster than with keypads and biometrics. Opening can also be controlled via a user-programmed access code and a mechanical key.
Four included RFID tags can be selectively programmed to open a specific safe and any other RAPiD safe in the house.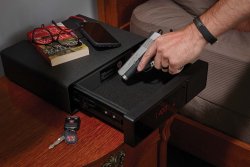 The tempered glass front panel of the RAPiD Safe Night Guard shows the digital clock display and access code keypad while the RFID receiver is invisible. When the wristband containing the tag is placed over the safe's reader, a padded drawer slides silently forward thanks to a spring-loaded system, allowing you to store or retrieve your gun. The size of the drawer is 9.2"x 6.9" (23.3 x 17.5 cm) with a height of 2.2"/5.5 cm, so it can hold most compact and full-size guns (for example, a Glock 17 is 8" long and 5.4" high, or 20.4 x 13.9 cm, with the magazine inserted), as well as valuables.
The construction of the RAPiD Safe Night Guard is extremely heavy-duty, tamper-proof, and designed to exceed the toughest industry standards for firearm storage. The AC and battery power ensure that guns and other valuables are protected and ready 24/7.
The RAPiD Safe Night Guard is also easy to install: it can be secured to a ring in the wall with the included 1500 lb/ 680 kg rated steel cable, or you can use the mounting holes to permanently secure it to a stationary object, such as a bolted-down bedside table.
The price of the Hornady RAPiD Safe Night Guard is approximately 350 euro.