An ultra slim muzzle brake is the new product offered by American Tactical, a US manufacturer and world-wide importer of firearms, ammunition and tactical equipment headquartered in in Summerville, SC. Muzzle brakes are devices that redirect energy to reduce recoil and kickback in firearms. 
When any firearm is fired, exiting propellant gases naturally cause the front end of that firearm to rise, and when the gun in question is a hand-held one, this means a loss of control. 
The concept behind a muzzle brake is that it diverts gases caused by firing away from the muzzle, preventing muzzle rise. Placing this device directly on the muzzle, the inertia that it creates reduces recoil as well. The American Tactical HFS (Hold control Follow-through Stabilizer) Muzzle Brake is a muzzle device with a very slim 0.750" design that allows for easy work on the weapon's gas system without the need to remove the muzzle brake from the barrel. 

The ultra slim HFS Muzzle Brake by American Tactical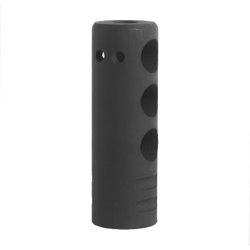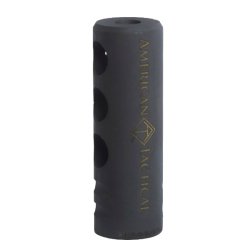 According to the manufacturer, the large lateral ports, combined with the smaller dorsal ports, help to reduce muzzle climb by as much as 95%, virtually eliminating muzzle climb when shooting. This reduction allows for more accurate follow up shots as compared to standard muzzle devices.
The HFS Muzzle Brake is just 2.25" long and made of 4140 Steel, entirely machined by American Tactical. The 1/2x28 threading is the standard 5.56 barrel threading.
Installation is quite straight forward: you have to place the crush washer on the threaded end of the barrel with the concave side facing forward (towards the muzzle brake), hand tighten the muzzle brake against the crush washer, tighten the muzzle brake until the top two ports are indexed top dead center on the barrel and check for tightness.
The manufacturer suggested retail price for the American Tactical HFS Muzzle Brake is 49.95 USD (around 42 Euro).
This video has been hidden because of an external service (YouTube) that could potentially collect personal data.Allow video services for the duration of the visitAllow video servicesStop allowing video services