If only four years ago someone had hypothesized the current performances of flashlights, we would not have believed him.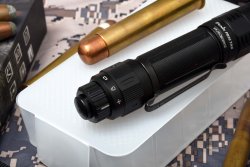 Roberto Allara, © Roberto Allara
But in recent times the performance of LEDs has had an extraordinary increase and batteries, with the recent 21700 models, have reached the capacity of 5 Amps. Compatibility between the 21700 and the 18650 batteries exists in only one way: since the diameter of the more powerful battery is slightly larger you can replace it, in case of emergency, with an 18650, while the opposite is usually not possible. Obviously, performance with the lower capacity battery will be affected, but the possibility to use a battery which is easily available, and even to use in its place two very common CR123 batteries, should not be underestimated. 
The battery that comes standard with the Fenix PD36 Tac is in fact rechargeable and doesn't require a dedicated charger. You can just use a USB port that today you also find in most cars – but recharging takes some time and sometimes it is not available. 
Fenix PD36 Tac: compact but with absolute power
The flashlight comes in a cardboard box with a plastic inner container, so well-protected even from clumsy couriers. Along with it we find a belt holster, a USB charging cable, a manual in several languages and a very useful a spare O-ring that will allow you to maintain the flashlight waterproof.
Roberto Allara, © Roberto Allara
The battery is inside. The small size of the flashlight is surprising, with a maximum diameter of 1.1"/28 mm measured on the octagonal section of the aircraft-grade aluminum housing. The octagonal design serves to avoid rolling when the flashlight is placed on a flat surface. Overall length is 5.51"/14 cm including the back push switch: with a 3000 lumens output I think this is a compactness record, although in my opinion it will be beaten in a short time, probably by Fenix itself. The performances of this little flashlight are stunning. By means of a switch you can choose between two modes, called Duty and Tactical respecively, as well as a stop position that prevents the unintentional operation of the flashlight. 
Tactical mode makes use of a single light output: 2000 lumens for a duration of 3 hours and 10 minutes; Duty mode makes use of as many as six outputs, that is 3000 lumens in turbo mode with a duration of an hour and a half; 1000 lumens in high mode with a duration of 3 hours and a quarter; 350 lumens in medium mode, which lasts 10 hours and 10 minutes; 150 lumens in low mode with a duration of 18 hours and three quarters; 30 lumens, more than enough to perform jobs such as changing a car tire, with a duration of 6.6 days (six and a half days! ) in eco mode. A 2000-lumen strobe mode is added, the duration of which is not indicated. All functions can be selected by means of the toggle switch located at the back of the flashlight body. Water resistance, guaranteed by an O-Ring, is IP68, which means that the flashlight can be submerged in water for over an hour. 
| | |
| --- | --- |
| Manufacturer:  | Fenix |
| Model: | PD36 Tac |
| Max Output:  | 3000 lumens |
| Max Diameter:  | 28 mm |
| Overall Length:  | 141 mm |
| Battery Type:  | 20700 lithium |
| Weight:  | 168 grams |
| Price: | Not yet announced – around $100 in the US |