The anti-gunners may hate them with all their might, but moder sporting rifles (those semiautomatic centerfire and rimfire long arms patterned after modern military issue firearms) are still the best selling category out there: practical, reliabile and fit for all purposes − from hunting to sport shooting and defensive purposes − are at an all-time high popularity between the younger generation of shooters, in Europe and in north America alike.

As a direct consequence, all related accessories sell like hot pies as well, first and foremost their standard capacity magazines (those derogatively dubbed "high-capacity magazines" by the anti-gun lobby), which are paramount for any shooter who would want to exploit his or her modern sporting rifle in all its efficiency, and particularly for practical or tactical rifle shooting sports.
The main drawback of 30-rounds magazines is that they may result a little inconvenient to reload manually.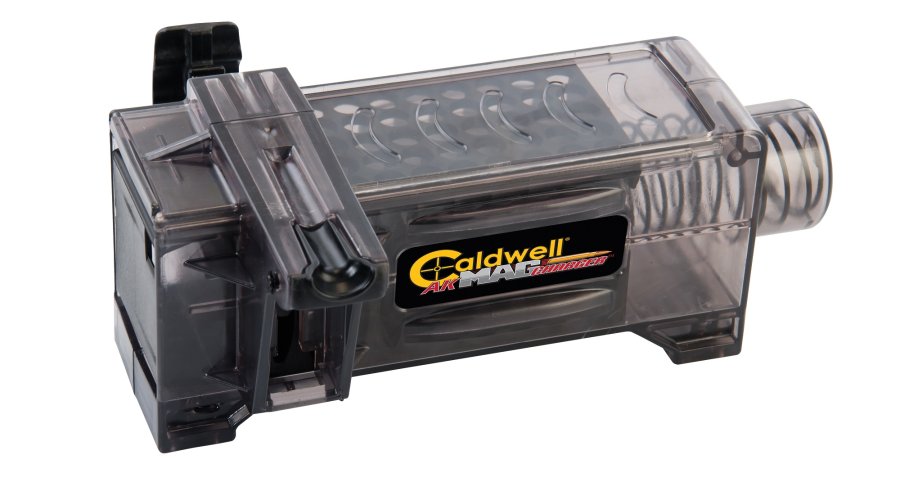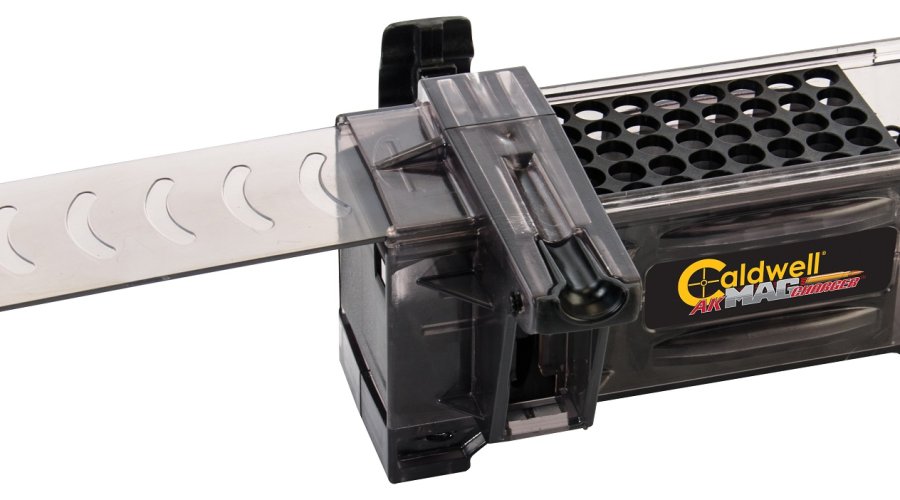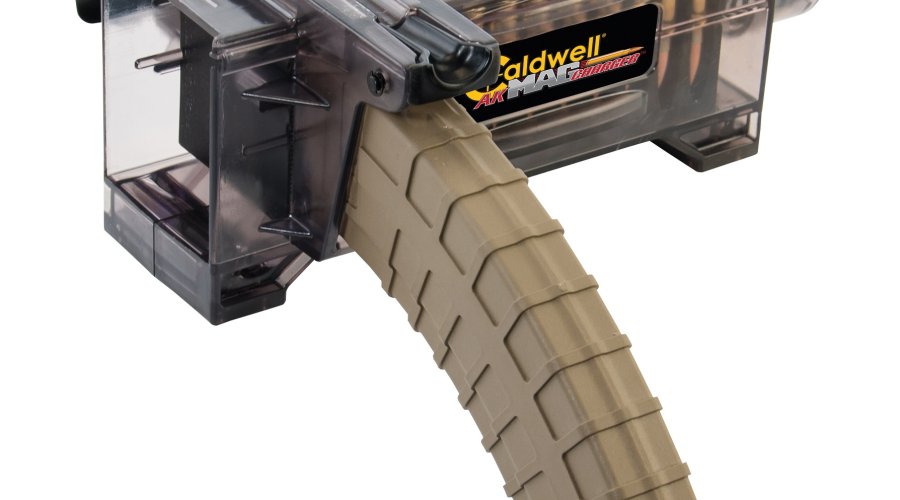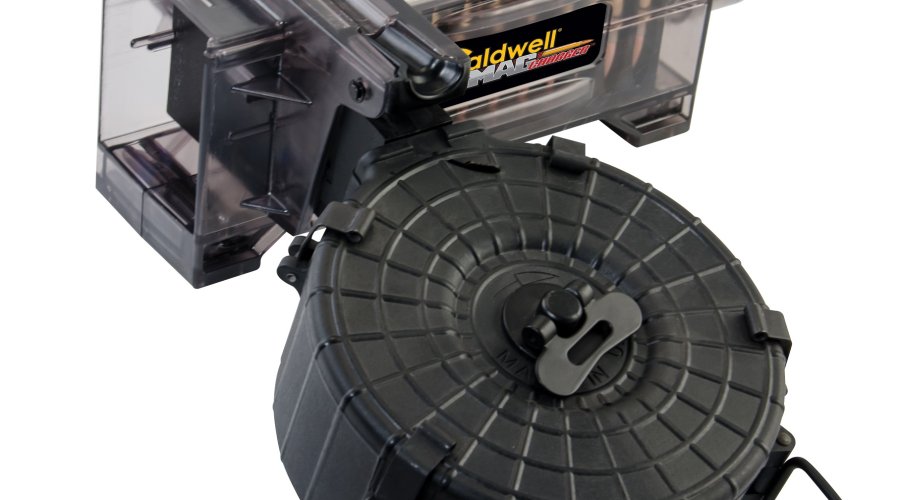 One of the most practical solutions ever conceived to address the inconvenience of manual reloading is today offered by Caldwell Shooting Supplies −  Battenfeld Technologies, Inc. brand − whose first quick magazine loading system for STANAG 4179 (AR-15/M16/M4) type magazines was first showcased at the 2014 SHOT Show, and launched on the commercial markets a few months later; this year, once again at the SHOT Show, Caldwell went for seconds by launching a variant of the same system specifically conceived for AK/AKM 7,62x39mm caliber detachable magazines: meet the Caldwell AK Mag Charger.
The Caldwell AK Mag Charger is essentially a scaled-up variant of the earlier AR-15 Mag Charger system: the it is dimensioned for 7,62x39mm ammunition, and the magazine well has been radically redesigned to accept AK/AKM-compatible magazines of any make, material, and capacity to accept and refill. But the overall, durable polycarbonate structure remains the same, and so does the general working principle.
Simply put, the Caldwell AK Mag Charger consists in a spring-loaded plastic dispenser, contained in the translucent polycarbonate box structure, holding up to fifty rounds of 7,62x39mm ammunition; a magazine well and holder; and a manually-operate plunger.
The dispenser is loaded manually, simply by aligning the bullets with the round slots in it and putting them in with their tip down; that's where those plastic blisters the ammunition is boxed with by several manufacturers will come very handy.
Once the dispenser is loaded and the magazine is firmly attached to its connecting well, the user will only have to manually operate the plunger multiple times: five rounds of ammunition will be pushed in the magazine with each stroke. With some practice, any user will be able to load all fifty rounds in two AK magazines in a mere 15 seconds timespan!
The only users who may experience inconveniences with this system are those who buy ammunition generally boxed only in cardboard, without plastic blisters.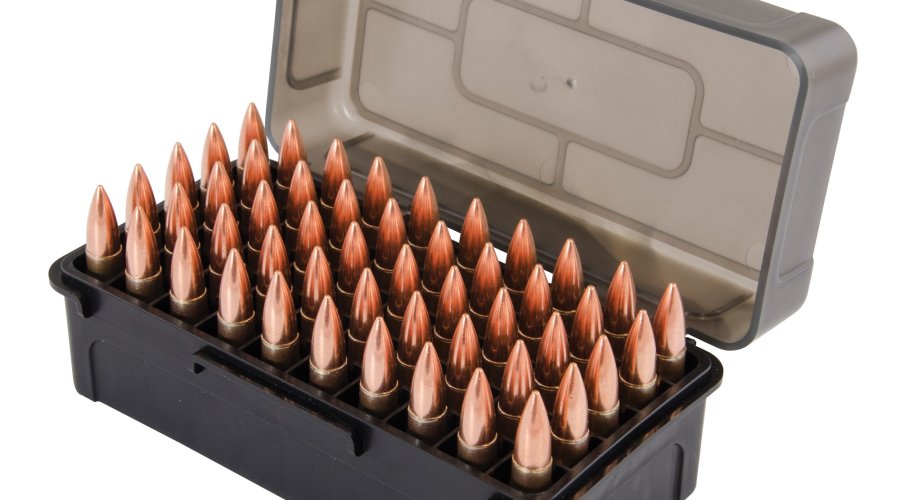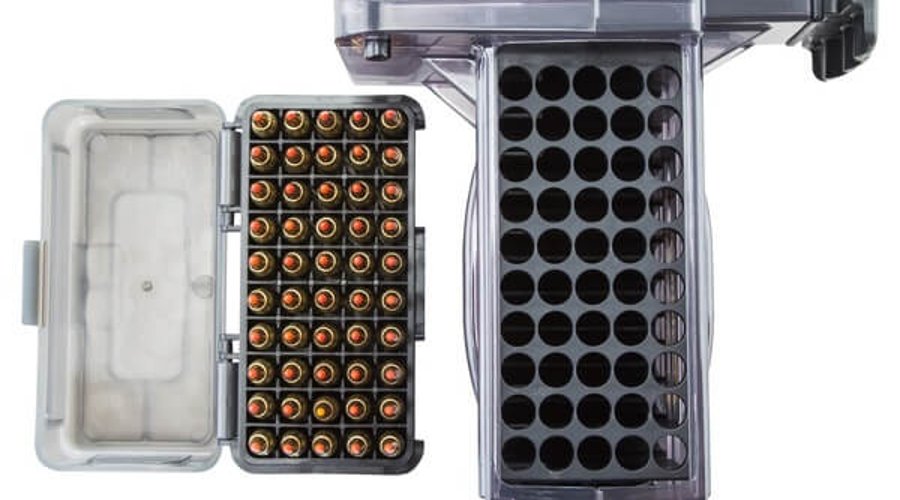 In order to save them from the hassle of having to load the dispenser of the Mag Chargers manually, Caldwell launched this year an entire line of Mag Charger Ammo Boxes: these sturdy polymer ammunition cases with a semi-translucent hinged top cover hold up to fifty rounds each, and are built to be immediately compatible with the Company's own Mag Chargers.
The Caldwell AR-15 Mag Charger Ammo Boxes can be used with 5,56x45mm/.223 Remington or .204 Ruger ammunition; the Caldwell AK Mag Charger Ammo Boxes  are instead compatible only with 7,62x39mm ammunition; other than just serving as a quick loading system for the Mag Chargers, these ammo boxes will turn quite handy for simple storage or transport of ammunition.
The Caldwell AK Mag Charger is currently sold in the United States at a manufacturer's suggested retail price of $99.99, basically the same as the NRA's "Golden Bullseye Award" winner AR-15 Mag Charger. The Caldwell Mag Charger Ammo Boxes are instead offered at a manufacturer's suggested retail price of $24.99 each in the U.S.
Street price may vary from the suggested retail price, and so probably will the retail price in Countries other than the United States. Prospective non-U.S. buyers are urged to contact their local distributor or national authorized importer of Battenfeld Technologies - Caldwell products to inquire about local availability and pricing.

This video has been hidden because of an external service (YouTube) that could potentially collect personal data.Allow video services for the duration of the visitAllow video servicesStop allowing video services