Article also available in other languages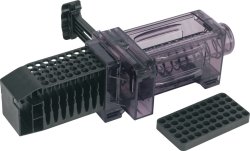 Battenfeld Technologies, Inc.
The double-stack detachable magazines built in compliance with the never adopted as such, but known worldwide and de-facto used, universal standard as NATO standard STANAG 4179 currently represent the most widely accepted and spread feeding system for civilian, military and Police semi-automatic, full-automatic and manually-operated rifles or carbines chambered in 5.56x45mm/.223 Remington caliber and other dimensionally similar cartridges, all around the world.
It isn't hard to see why: the well known "AR15-type magazines" are versatile, easy and quick to insert, are cheap and widely available on the market, and will provide superior capacity when required.
If there's one drawback that must be acknowledged to STANAG magazines, thats their manual reload procedure. 
True, inserting rounds into a STANAG magazine is as easy as pushing them down, but it gets harder and harder as the magazine gets close to capacity, and when dealing with high-capacity magazines − or even just over 30 rounds − manual reload of the magazines may be the next closest thing to a Tantalean ordeal for the shooter and his (or her) thumbs.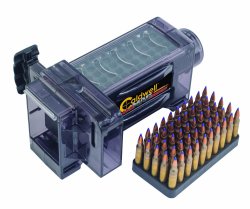 Battenfeld Technologies, Inc.
All throughout the years, many companies came out with solutions providing easier and quicker reload for AR-15 type magazines, some more successful than others, but almost none of them is as interesting as the device first showcased at the 2014 SHOT Show by Caldwell Shooting Supplies − a Battenfeld Technologies brand − and now finally in distribution, for the joy of so many shooters that have been eagerly awaiting for it ever since they first glimpsed it in Las Vegas.

Dubbed the Caldwell AR-15 Mag Charger, the new device has been conceived to fill up .223 Remington/5.56x45mm and .204 Ruger magazines literally in the blink of an eye.
The Caldwell AR-15 Mag Charger is entirely manufactured out of polycarbonate, and while this makes it look and feel almost like a toy, it also makes it a lightweight, compact piece of equipment to be carried and used everywhere, either at the range or at home... or on the field, for professional operators.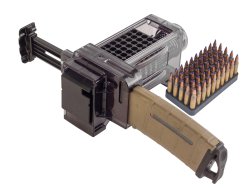 Battenfeld Technologies, Inc.
Technically speaking, the Caldwell AR-15 Mag Charger device sports a spring-loaded feeding tray that will host up to fifty rounds of 5.56mm/.223 or .204 Ruger ammunition; all it takes is to empty the ammo box inside the feeding tray, which will automatically align each round.
The feeding tray is hosted in a polycarbonate structure that also features a feeding port where any metal or polymer STANAG-type empty magazine will fit.

Once the feeding tray has been filled and the magazine has been placed, the user will have to operate the T-shaped plunge back and forth, with strenght; each stroke will load five rounds into the magazine until it's fully loaded. An ammunition transfer tray is included to stage ammo for bulk loading, or to invert ammo positioned in boxes pointed tip down.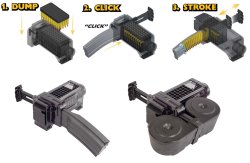 Battenfeld Technologies, Inc.
Unlike other similar products, the Caldwell AR-15 Mag Charger requires very little practice to operate properly, and the spring-loaded dispenser is quick and easy to refill to load multiple magazines in sequence, or to fill up high-capacity magazines for civilian, Police or military purposes.
It's a simple idea, built simply but sturdily, a useful device that will be welcome by sports shooters − who will be glad to spend more time shooting and less time reloading − as well as by military or law enforcement armorers.
The Caldwell AR-15 Mag Charger has been launched on the international market only very recently, and may not yet be available in every Country. The manufacturer's suggested retail price tops  89.99US$ (around 66,50€) in the USA, but the item is already available at discount prices through retailers and on-line stores. US customers may purchase it directly from the manufacturer's website, while international customers have a choice between a good number of Internet stores that offer global service, including Amazon, Cabela's and Midway.
This video has been hidden because of an external service (YouTube) that could potentially collect personal data.Allow video services for the duration of the visitAllow video servicesStop allowing video services