Taking care of a firearm doesn't just mean knowing how to properly use and cleaning it. It also means protecting your guns during transportation and storage, even against high tides, extreme weather events and in case of floods – which are not so uncommon in many countries. There is a pioneer company that in the 1970s invented a new product category of virtually indestructible protective cases: it's Peli. In 1976 the company founder, Dave Parker, initially designed a superior first-aid kit for divers whose cases were rugged, durable, and built to keep the contents stored inside safely protected from water and dust. It did not take long before someone used those same cases to protect guns from the elements, and purpose-made cases were designed.
Today, many hunters and shooters use protective cases to store and transport ammo, handguns, long guns and accessories such as scopes and binoculars – critical communications and IT equipment can also be stored there. But what should you consider when choosing a case?
Let's explore the topic in the company of Peli.
Protective cases: basic features
From the first models of the 1970s, in the last decades the product offering in the protective case department has obviously diversified significantly. Many different types and sizes are available. Anyway, you should consider these basic features when choosing a protective case: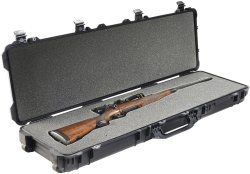 Strength – A protective case needs to be strong. The manufacturing technique usually is injection moulding using thermoplastics that offer a great combination of physical, chemical, mechanical, thermal, and electrical properties, with a good strength to weight ratio. 
Impenetrable – In addition to being crushproof, protective cases must also protect what's inside from outside elements, such as water and dust. Protective cases therefore use some kind watertight and dustproof hermetic seal to keep said elements out.
Mobility – The ability to be moved around with ease is one of the most important characteristics of a protective case. Protective cases should be either light enough to carry by hand and/or come with both wheels and a retractable extension trolley handle to pull the case along.
Protective Interiors – Protective interiors keep what is inside safe. Usually, this consists of some kind of customizable foam, but there are alternatives. 
Practical examples: Peli products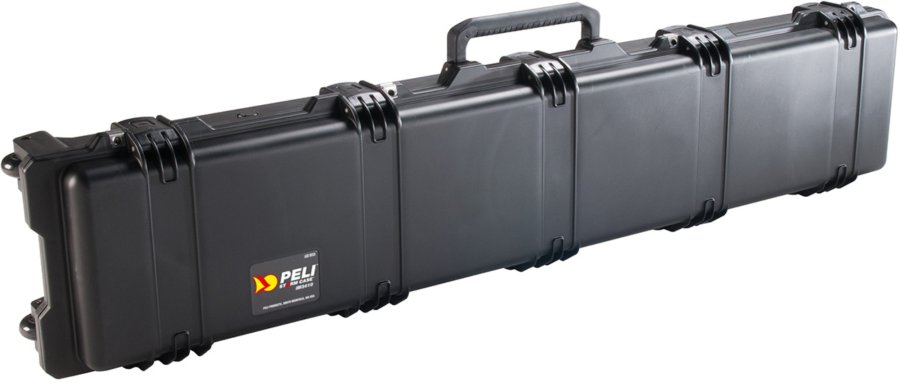 To better understand these features and differences, Peli's production for example includes three case lines: the original Protector Case, the Storm Case, and the Peli Air. Although all these cases are very strong, there are subtle differences in each case line. Air cases, Protector cases and Storm cases are all IP67 certified – which  means they are both dustproof and waterproof in depths of up to one metre for longer than 30 minutes. Since the cases have a very high buoyancy threshold, that's all the waterproof protection you'll need. They are also crushproof, which has been proven through rigorous tests, including using massive vehicles to run the cases over.
But the Protector series cases have two-step open and close latches, also known as double-throw latches, which in theory creates a stronger seal – the double-throw latches in fact generate a greater pressure seal than press-and-pull latches.
Peli cases with the double-throw latches have been dropped from heights of more than 1.8 meters in military tests (DEF-STAN 81-41) and have proven to stay closed. This is a very high level of protection. On the other hand, these cases are harder to open and close while the Storm and Air cases' press-and-pull latches are almost effortless to open.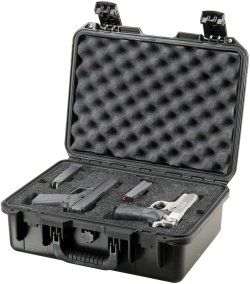 Then, the weight. The Protector cases are made with copolymer polypropylene, a very strong plastic made with a proprietary formula that provides the maximum possible strength due to a special foaming process during production. However, this strength comes at the cost of a much heavier case. On the contrary, the Storm cases as well as the Peli Air ones are made with a proprietary lightweight HPX resin, which means that they are slightly less strong than the Protector at high temperatures, but are also lighter – up to 40% lighter, in the case of  the Peli Air. Weight is important especially when dealing with airline carry-on and checked baggage policies that limit the size and weight of luggage.
The Protector and Storm lines also appear to be much more rigid than the Peli Air, even if the protection level is still the same, with all three case types having been tested to US/NATO mil-spec standards. In short, to use the words of Marco Markschlaeger, Peli Products Germany Business Development Representative, "We could consider the Protector case to be 'tank standard' while the Storm provides a very high level of protection combined with slightly less weight compared to a similarly sized Protector case. And lastly, there's the Peli Air, which has the best possible ratio of protection and weight saving."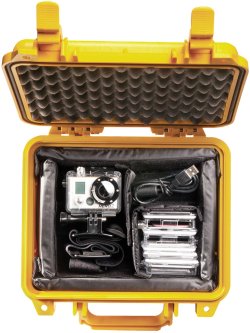 These basic considerations about level of protection and weight also apply to other manufacturer's products, of course. 
About mobility: many case models come with both wheels and a retractable extension trolley handle to allow you to pull the case as it rolls along the ground. This makes it ideal for travelling, but more generally, for transportation.As for interior protections, there are myriad case accessories that are available for each case line. You can also find custom case solutions that can make any interior perfect for your needs.
Last concern, the price. Actually, it can sometimes seem a bit steep. But if you choose the right product, it's a lifetime investment. The most important aspect you should take into account when buying a protective case is, well, protection. It makes no sense to save a few bucks if the case won't adequately protect your precious – and expensive – firearms or optics.
About Peli: over 40 years of protection and expertise
Peli is a global leader in the design and manufacture of high-performance protective cases, temperature controlled packaging and advanced portable lighting systems for over 40 year. To learn more, read also our article Buyer's guide: How to choose the ideal tactical torch and why ANSI standard is so important.