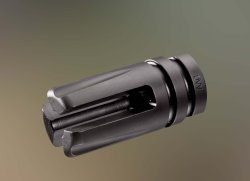 The muzzle brakes and flash hiders by the American AAC company (Advanced Armament Corporation, belonging to the Remington group) represent the state of the art for this type of extremely specialized accessory. AAC products stand out for the high quality of the materials and for the continuous research and evolution of their projects. The open design three-prong flash hiders are extremely efficient in reducing the blast of firing gases even on short-barreled rifles, and are particularly resistant to wear. The AAC produces them in stainless steel with SCARmor finish, which is particularly effective against corrosion.
The new AAC three-prong muzzle brake is available in two versions, the first for .223 Remington caliber guns with ½-28 thread (code 12673), the other for .308 Winchester caliber guns with 5/8 thread -24 (code 12674). The design of the AAC flash hider is a reinterpretation of the original three-pronged "duckbill" type mounted on early Colt Ar-15s, revised and corrected.
AAC muzzle brakes also for long range rifles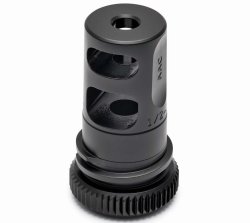 As for muzzle brakes, those of the AAC 51T series have been designed to minimize recoil and detection of the gun when shooting. For this reason, they are equipped with expansion chambers of graduated size that dissipate energy uniformly, increasing shooting accuracy. 
They are also characterized by extreme ease of assembly. The AAC 51T muzzle brake is available for .223 Remington caliber guns with ½-28 thread and for .308 Winchester caliber guns with 5 / 8-24 thread.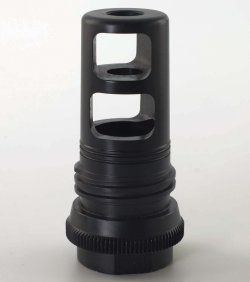 The AAC 90T model, on the other hand, is intended for use with long range rifles and built from 17-4 aerospace-grade stainless steel, heat-treated and titanium nitride coated in order to increase its strength. 
In this case the muzzle brake is produced in two versions: the first version features a double chamber, while the second one has a single compensation chamber. Both versions are available for .308 Winchester, .300 Winchester Magnum and .338 Lapua Magnum guns with 5 / 8-24 thread.