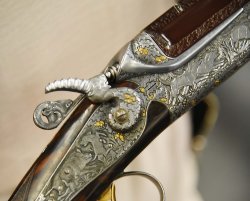 Paolo Peli started working on fine guns in Famars, a little company that was already great in the world. In Famars he worked on the Rombo, a four-barrelled shotgun, ad on the Tribute, a boxlock gun in Westley Richards style. He worked in Famars for 24 years, then started a new project with a new brand: PMP. 

His guns can be completely customized to every desire: any combination of barrels, body type, and firing mechanisms can be used to create a customer's personal masterpiece. All custom requests are considered and meticulously crafted to turn dreams into reality.
All PMP guns are  hand made with watch like precision by master gunsmiths under the direction of master gunsmith Paolo Peli.
The end result is an innovative and timeless masterpiece that is truly one of a kind. All of guns are beautifully adorned with the finest Italian hand engraving ranging from beautiful rose and scroll designs, to exotic game scenes. At IWA PMP shows this beautiful kipplauf with external hammer, chambered for the 7x65R cartridge and crafted to a true little sculpture.