Today we would like to introduce you to one of the world's best gunmakers, Holland & Holland, who have been producing exquisite handmade rifles and shotguns since 1835.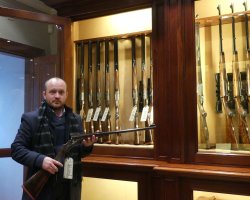 Holland & Holland religiously provides values like quality, craftsmanship, and traditional and modern innovations, into each gun they create – we could've said "make", but when you see in person what goes into the manufacturing of each and every gun you'll understand why I've used the word create.
The company's outstanding combination of art and functionality has been recognized by royal families and those who surround them across the globe. Holland & Holland, holding two Royal Warrants (Royal Warrant of Appointment has been issued from the 15th century to those who provide goods to a certain personage or to a member of the royal family).

Harris Holland founded Holland & Holland back in 1835. Due to having no children of his own, Harris offered an apprenticeship to his nephew Henry Holland in 1861. Then, just some 6 years later, Henry became a joint partner and thus the new brand name Holland & Holland was established above the shop's front door. This collaboration led to the business winning multiple awards for rifles organized by The Field magazine. They had succeeded in setting new standards of excellence among English gunmakers. Today, they continue to go strength to strength through selling not only amazing quality guns, but beautiful clothing and the best tuition at their famous shooting grounds too. 

Best collaborations
Being a classic British gunmaker, Holland & Holland started a unique collaboration with equally classic car / 4x4 manufacturer Range Rover – but this's something that we can tell you about later.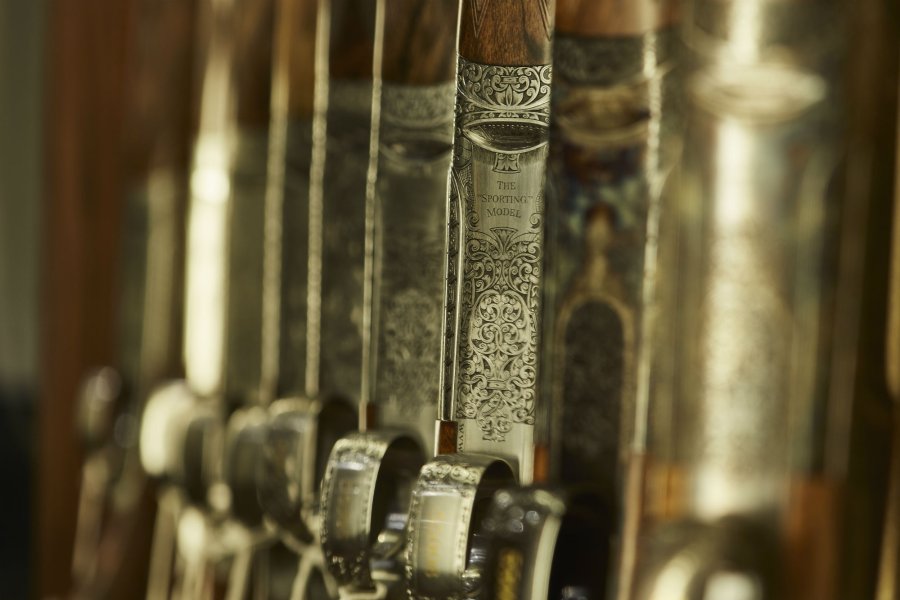 Holland & Holland, 33 Bruton Street Shop
We had opportunity to visit the Holland & Holland London shop. We were kindly given an in-depth tour of the shop floor as well as the Brevis Room which holds multiple historical and highly collectible guns. The room also boasted trophies, sculptures and very special paintings that in themselves told stories the longer you examined them. As a visitor you could spend unlimited amounts of time looking at each item. However, it must be said that our favorite feature was the gunroom packed to the brims with some of the finest firearms in the world. It is here that you can find a gun for any type of shooting, as well as being able to construct a bespoke gun to cater to your specific needs.
It takes approximately 2.5-3 years for Holland & Holland to make a bespoke gun, yet timing does differ in terms of what each individual desires. All elements of the gun, including the tools that are used, are hand-made in the London factory. Every detail of every gun can be traced back to individual maker being that a stock, action or barrels. We would say every maker most likely would remember the item he or she made, as they are so special and take "a bit" of time to produce.
The "Royal" Side by Side Game Gun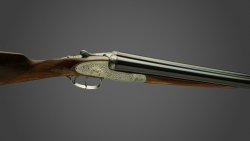 While we were looking around the shop, from nowhere two side by side shotguns appeared on the table – not just any two, but "Royal" Side by Side in 12-bore caliber. Here are their features:
"Royal" line of calibers: 12, 16, 20, 28 and .410.
Barrels: from 25" / 64 cm all the way to 32" / 81 cm chopper lump, with 2 and 3/4" (70 mm) chambers, game rib and the chokes bored as specified.
Stock: selected walnut, polished, oiled and finished to the individual's measurements, with the option of straight or semi-pistol grip, finely checkered. There is also an optional gold oval engraved with initials or crest.
Engraving: traditional "Royal" scroll engraving pattern; color-hardened or bright finish, the gun's serial number engraved or inlaid in gold.
(The weights of each and every gun depends upon the bore and the specification.)